Discover more from Murray Bridge News
The number-one news publication in South Australia's Murraylands, read by thousands of locals every week. Subscribe to our weekly email edition for free today.
Over 4,000 subscribers
Business hive on Murray Bridge's main street is ready to buzz
Take a look inside the new co-working space on Bridge Street, the first stage in what will become the Murraylands Skills Centre.
Locals support locals – that's why this recent post is now free to read. Your support can help Murray Bridge News tell important local stories. Subscribe today.
Murray Bridge's new business hub is open for … well, business.
The former Centrelink building at 12 Bridge Street has been transformed into a modern, welcoming co-working space where entrepreneurs can hire a desk and students can study for free.
Council economic development manager Vanessa Leigh encouraged locals to come and check the space out.
She hoped it would help new business owners feel like part of a community.
"I hope it gives people a connection to other businesses, a starting point, even if it's just for the short term," she said.
The modern space has a shared kitchen, break-out areas with couches and coffee tables, a board room with videoconferencing facilities, and everything else a new business owner or learner could need.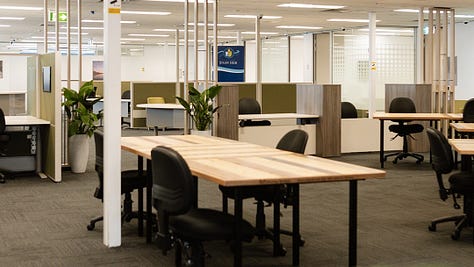 Murray Bridge Mayor Wayne Thorley hoped the hub would turn Bridge Street into "a hive of activity" by bringing together people who wanted to learn new skills and those in need of a public space to do business.
"That's the key to us: enhancement of the main street, creating new activity (in a place) where people can mingle, learn, engage with small businesses and benefit each other," he said.
"It's a space to hot-desk, and to meet without having to be across a kitchen table."
Locals support locals. Your support helps Murray Bridge News tell important local stories.
Like the study hub at Murray Bridge's TAFE campus, it was also somewhere tertiary students could come and study, with the added benefit that they would get direct contact with local business owners.
"We're very mindful of helping families stay together, learn together and work together," he said.
An official opening will be held in a couple of weeks for the shared facility, which will be known variously as the Hive, the Murraylands Skills Centre and an outpost of the Murray River Study Hub.
It will be open from 9am to 5pm initially, but will eventually be available to workers and students between 6am and 12 midnight.
The business hub and Ms Leigh's role were created as a result of the Murray Bridge council pulling funding out of Regional Development Australia and deciding to wade into the economic development space itself.
The building was previously occupied by Centrelink before the federal agency moved into Murray Bridge Marketplace in 2022.