Discover more from Murray Bridge News
The number-one news publication in South Australia's Murraylands, read by thousands of locals every week. Subscribe to our weekly email edition for free today.
Over 4,000 subscribers
Young achievers recognised at MBHS presentation night
The most promising year 12 graduates from Murray Bridge High School's class of 2022 have been acknowledged at the school's awards evening.
This post was originally published behind Murray Bridge News' paywall. Paywalled posts are unlocked four weeks after publication. Can't wait that long? Subscribe here.
Murray Bridge High School's most promising year 12 graduates have been recognised – and shared their memories of a turbulent year – at a presentation evening for the class of 2022.
Riley Lienert walked away with the prestigious Clair Harrop Memorial Award, the Barker Shield for academic achievement and several other gongs on November 22.
A new perpetual prize for a high-achieving Ngarrindjeri student, the Eileen Hughes-Ursula Crowley Award, went to Aileen Rigney.
Chloe Allen was named the school-based trainee of the year, and Riley Walton the school-based apprentice of the year.
Outgoing prefect Gamze Bakan won an award for business innovation, sponsored by Murray Bridge News; as well as a Long Tan Scholarship, Rotary leadership award and the prizes for English literary studies and biology.
But just as important were the life lessons and memories students said they would take away from their high school years.
Gamze said it had been a "turbulent" year, but one which had shaped her as a person.
She thanked the teachers, families and friends who had joined her fellow year 12s "on a rollercoaster of emotions and hormones, with the battle scars and eye bags to prove it".
"I have no doubt the memories we've made here at this school will follow us, and the legacy of making the teachers rip out their hair will haunt us in years to come," she said.
Outgoing prefect Caitlin Schubert said she had met "some of the world's most beautiful people" at the school, and made life-long friends.
"People say high school years are years you never forget, and I hope that this is true," she said.
Principal Ruth Mussger said she was proud of the students and the dynamic, inspiring, vibrant school community they were leaving behind.
She urged them to stay connected with each other, to give back to their families and to remember where they came from.
"You are and always will be graduates of Murray Bridge High School," she said.
"Please wear that badge with honour."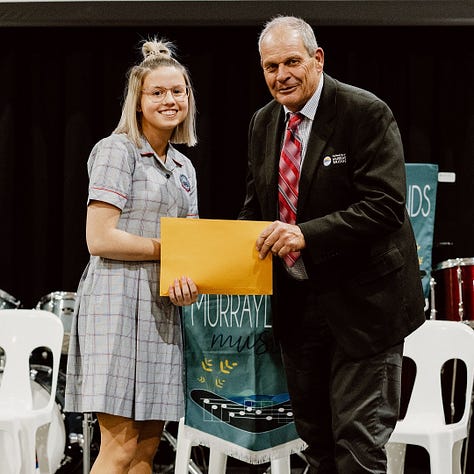 Major award winners
Clair Harrop Memorial Award: Riley Lienert

Long Tan leadership and teamwork award: Gamze Bakan

Young innovators award: Emma Moffatt

Eileen McHughes-Ursula Crowley Award: Aileen Rigney

Best all-rounder: Lucas Young

Barker Shield for academic achievement: Riley Lienert

Barker Shield for community service and spirit: Caitlin Schubert

Barker Shield for leadership: Sakinah Karras

Rotary Award for leadership: Gamze Bakan

Rotary Award for service to school and community: Jaeger Crane

Rotary Award for commitment to studies: Sara Balhaddad

MBHS values award: Kaitlyn Gibbons
Subject award winners
Chloe Allen (school-based traineeship)

Gamze Bakan (biology, business innovation, English literary studies)

Sara Balhaddad (general mathematics)

Aquinas Callaghan (visual arts art)

Yllery Caspillo (modern history)

Jaeger Crane (sports studies)

Alex Diduk (visual arts design)

Andrew Hanton (creative arts)

Riley Lienert (digital technology, maths methods, physics, specialist maths)

Stephanie Lokan (agriculture practical skills, Earth and environmental science)

Coen Martin (agriculture production)

Emma Moffatt (chemistry)

Charlize Morrell (outdoor education)

Nathaniel Pennicott (business entrepreneurship; design, technology and engineering)

Linh Pham (English)

Keith Santillan (music)

Jessie Siedel (economics)

Riley Walton (school-based apprenticeship)

Pearl-Lana Woolger (drama)

Lucas Young (health, physical education)