Discover more from Murray Bridge News
The number-one news publication in South Australia's Murraylands, read by thousands of locals every week. Subscribe to our weekly email edition for free today.
Over 4,000 subscribers
What if society had just three rules? Inside the world of Murray Bridge Community Chat
Scott Fulwood is the unofficial mayor of a Facebook community with 12,000 members. How's that working out for him?
Locals support locals – that's why this recent post is now free to read. Your support can help Murray Bridge News tell important local stories. Subscribe today.
It began, Scott Fulwood says, as a social experiment.
Could adults be trusted to remain civil and respectful in an online version of the real-world community where they lived and worked?
"I wanted to see if you could give a group of adults three basic rules and see if they can exist together," he said.
The rules?
"Don't act like a douche"

Comments will not be moderated

You must agree to the rules to become part of the group
Eight years after co-founding Murray Bridge Community Chat and becoming the unofficial mayor of an online community of 12,000 people, he reckons he's found an answer.
"It turns out they can't (be trusted)," he said with a chuckle.
But in this quirky online community, amid all the pettiness and pedantry, he's also found reason to believe there is hope for humanity yet.
Locals support locals. Your support helps Murray Bridge News tell important local stories.
'That s***'s entertaining'
The year was 2015.
Mr Fulwood was a bloke from Mypo, 30ish, young kids, running forklifts at the meat works, partying and gigging at the community club.
He and his mate Nick Tanner, a pizza shop owner and occasional poker player, used to run into trouble on Facebook pages that had been set up for buying and selling.
"You couldn't have a joke or say anything without someone getting offended," Mr Fulwood said.
So they set out to create their own Facebook group: somewhere people from their friendship group could have honest, unfiltered conversations about what was happening around Murray Bridge.
"We were sick of admins on other pages getting all f***ing stupid and rent-a-cop," Mr Fulwood said in a 2016 post.
"If you want to drop someone in the s*** for being a c***, here's the place to do it.
"But if you cause a fight, that's your problem."
They named it Murray Bridge Community Chat, and a few dozen friends signed up as group members.
But, after a while, both admins lost interest and deactivated their Facebook accounts.
Months or years passed.
Then – some time later – Mr Fulwood logged back in.
"All of a sudden there's 11,000 people and it's this crazy f***ing thing," he said.
Why do people care about social media?
It can be hard to explain Facebook to people not of the generation which grew up with the social media company.
For a huge proportion of Australians, it substituted for almost all other forms of communication for a while, becoming almost the only way of chatting with friends, keeping up with family, RSVPing to events and, yes, even catching up on local news.
For many, it's still like that – social media channels like Facebook are the main way you access the internet and the world's informational wealth.
But its main feed has become ever more distorted by ads and algorithmically selected rubbish, leading to the rise of groups like Murray Bridge Community Chat, where you can be confident that almost every post you read was written by a local person.
Did you really post it on Facebook if you didn't post it in the group?
If nobody posted it in the group, did it really happen?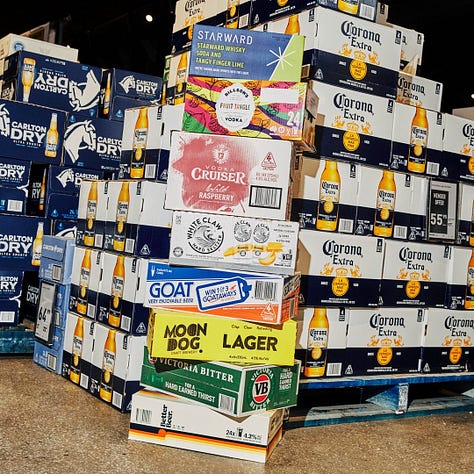 At their best, community Facebook groups can bring people together and allow them to share photos, thankful messages, or helpful information; or to buy and sell things.
Unfortunately, there's no shortage of users whose online conversations are blunter and more aggressive than in real life.
"As soon as someone gets (a phone) in their hand, they become 20 feet tall and bulletproof," Mr Fulwood said.
"I don't like that."
At the same time, he didn't count himself totally immune to that effect, either.
"I get messages from older people saying 'you're a nice boy, but you're an arsehole on here'," he said.
"Why?
"Because it's not real."
Murray Bridge's best-known Facebook user doesn't use Facebook much
Ironically, Mr Fulwood said he didn't spend much time on social media.
"I don't like it," he said.
"I'll jump on and have a laugh, but it's not something I spend too much time looking at."
In a still photo, Mr Fulwood might come across as a bit edgy: bearded and tattooed, with a pierced nose and tunnels in his ears.
But he described himself as an empathetic person with a close-knit friendship group, whose life revolved around loved ones and music.
At an age when some of his peers were getting into chicks, drugs and burnouts, he learned to play guitar and joined a band whose other two members were police officers.
In the past year or so he's even studied sound therapy and got himself a handpan: a sort of steel drum, resonant and meditative.
That was his advice to his own kids, he said – "Do what I did: get an instrument, keep your friendship group small and don't succumb to the horrors out there".
What about the memes?
There were a few important questions Murray Bridge News had to ask of Murray Bridge Community Chat's unofficial mayor, on the record.
We asked for his stance on:
McDonald's soft-serve ice cream: "I haven't had it since I was eight years old."

Helicopters: "I love helicopters. If they wanna fly helicopters over the Bridge all the time, they can go ahead."

Monorails: No comment.
What about the various businesses rumoured to have an interest in Murray Bridge – were there any he would like to see in the spotlight?
"In my opinion, Murray Bridge has everything it needs now," he said.
"What we need to do is support what's here already.
"We've got a massive new Bunnings, we've got a BCF, Repco, Burson's … we don't need anything else, we need to be thankful and supportive of the things we have.
"F*** Mount Barker."
There were people who sooked about Murray Bridge, on Facebook or in real life, but for his part, he took a positive view of the community.
"Everyone s***s on this town and it's not that f***ing bad," he said.
"A minority of people here need to pull their socks up and have a look at themselves, but it's beautiful on this (east) side of the river, it can be beautiful on the other side of the river, and the council has worked its arse off to make the main drag look nice.
"There are some brilliant things that happen in this town."
---
Disclosure: The author is a member of Murray Bridge Community Chat. Obviously.