Discover more from Murray Bridge News
The number-one news publication in South Australia's Murraylands, read by thousands of locals every week. Subscribe to our weekly email edition for free today.
Over 4,000 subscribers
Twin Bridges Rally attracts car enthusiasts from around the nation
A Murray Bridge car club has held its ninth Twin Bridges Rally in 2023, and attendees came from across SA and around Australia to join the celebrations.
This post was contributed by Graham Edwards.
October 13 to 15 was a big weekend for the Auto Collectors Club of Murray Bridge (ACCMB) members and visitors alike, who celebrated the ninth biennial Twin Bridges Rally (TBR).
Organisers Brenda Cowie and Jan Hall had been planning this "low-key" event for the past 12 months since COVID subsided.
Among those attending were 59 various car club members and their 34 vehicles from the Riverland (RVCCC), Mildura (MVVC), Strathalbyn (SACC), the R & S Valiant Car Club of Australia, the National Cadillac Club of Australia, the Chrysler Restorers Club and ACCMB members.
The ages of their cars ranged from 1929 to 2014.
Friday 13 from 3.30pm saw participants arriving at the Johnstone Park (JP) ACCMB clubrooms to register, collect their rally bags of goodies, have afternoon tea and meet and greet local members again since the last pre-COVID TBR in 2019.
Come 6.30pm, all met for a casserole and dessert tea, with ACCMB president Harry Howitt welcoming all and encouraging all to have a good weekend.
Saturday 14, all participants assembled at JP, full of excitement in readiness to participate in the day's mystery run and receive last-minute information and directions by coordinators Brenda and Jan to head to Goolwa for something of a mystery outing.
Bang on 8am as predicted – as if we had to catch a train – the group moved off in two convoys, 10 minutes apart, so as not to disrupt the flow of other motorists on the road.
We kept a distance of at least 100 metres between vehicles – despite what a police patrol thought about one of our safest convoy members on the return trip home, who was trying to keep the road toll down!
Participants travelled via Mulgundawa, Milang and Currency Creek before arriving at the Goolwa Wharf/cockle train carpark.
By this time, all participants were aware that we really did have to catch a train, the cockle train from Goolwa to Victor Harbor at 10am.
For many in the group, it was their first time on the cockle train.
On arrival at Victor Harbor, it was then a short walk to the Hotel Grosvenor for a platter brunch, which was enjoyed by all.
Following brunch, it was off to the shops to help prop up the local economy before reboarding the train at 1.15pm for the return to Goolwa.
While the group were away from Goolwa, a few local people engaged in the task of judging the vehicles of members from the rally to award the People's Choice and the Ladies' Choice best vehicles.
All vehicles departed for Murray Bridge, arriving safely in readiness for the evening meal at 6.30pm at the RSL clubrooms.
As people began arriving for dinner, it was quite clear that the theme for the evening was red, with dress ranging from a Native American chief to Father Christmas, Rocking Rod Stewart – hair and all – to everything dressed in red.
During dinner, the usual nightly raffles were held, with major prizes being won by Chris Matthews (RAA yellow travel case) from RVCC and Maureen Edwards (Bridge Office National office chair) from ACCMB.
The group had their own entertainer, Martin Pace, who sang, crooned, danced and dressed like Elvis, while mixing with many of the attendees during the evening – a great show by Martin.
Prior to the evening concluding, the best vehicle awards were announced.
The People's Choice went to Claude and Liz Minge (ACCMB) in their 1952 Mercedes 170D sedan, while the Ladies' Choice went to Trevor and Rosalie Chapple (RVCC) in their 1929 Nash Cabriolet.
As the evening drew to a close, participants were reminded that breakfast would be served at the JP's ACCMB clubrooms from 8.30am, along with the weekend quiz winner's announcement.
Sunday 15 started early, with most TBR participants arriving for an egg, bacon, tomato and onion on toast breakfast, cooked to perfection by some of the Lions Club of Murray Bridge members.
During breakfast, the winners of the two quizzes were announced, with RVCCC members Lawrie and Grace Kalisch and ACCMB member Ricky Kaak being crowned winners.
In closing the ninth biennial TBR, president Harry Howitt thanked the coordinators Brenda and Jan, all the helpers and everyone else for attending from far and wide, before wishing all a safe journey home and hoping to see everyone again in 2025.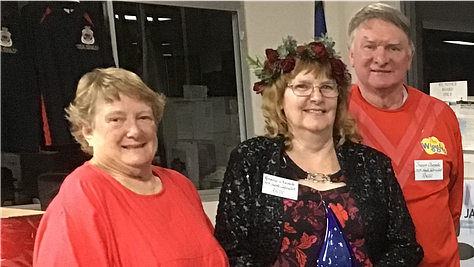 ---
Locals support locals. Your support helps Murray Bridge News tell important local stories.