Discover more from Murray Bridge News
The number-one news publication in South Australia's Murraylands, read by thousands of locals every week. Subscribe to our weekly email edition for free today.
Over 4,000 subscribers
Methamphetamine seized at Tailem Bend
Plus three motorists escape a collision with a train at Murray Bridge East and police make two traffic arrests.
Police have seized 10 kilograms of methamphetamine in a major drug bust on the Princes Highway at Tailem Bend.
Officers stopped a car around 6pm on Saturday as part of an investigation.
They arrested its occupants – a 24-year-old Queenstown man and a 21-year-old Peterhead man – and charged them with drug trafficking after allegedly finding both the ice and a small amount of cocaine.
Both were denied bail, made a brief appearance at Murray Bridge Magistrates Court on Monday, and were then kept in custody ahead of another hearing next Wednesday.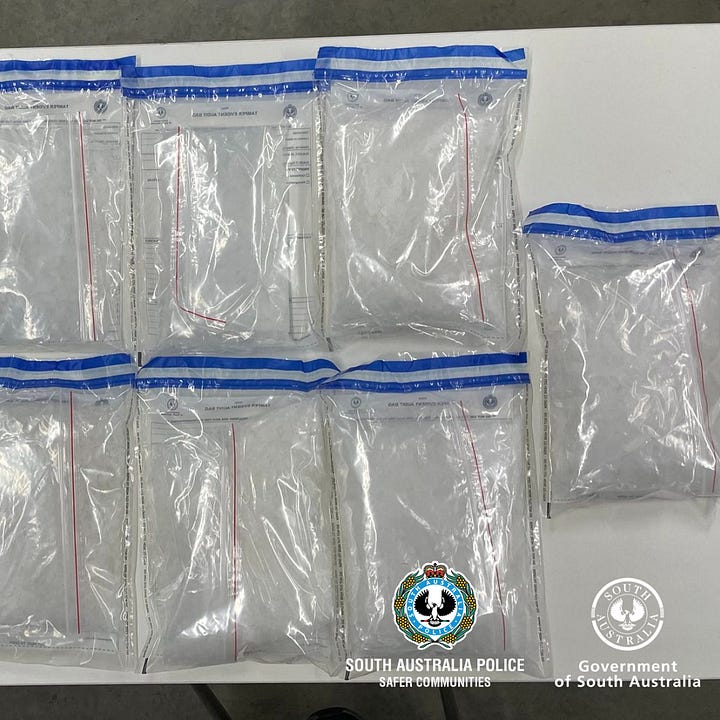 Detective Acting Superintendent Denise Gray took pride in the arrest.
"This seizure of 10 kilograms of methamphetamine not only removes these harmful drugs from the street but more importantly disrupts, disables and dismantles the organised crime syndicates involved," she said.
"Drug syndicates are motivated by greed and have no care for the harm they cause to our communities."
Anyone with information about the illicit drug trade should contact Crime Stoppers on 1800 333 000 or at www.crimestopperssa.com.au, anonymously if needed.
Train hits car at Murray Bridge East level crossing
Meanwhile, three people have escaped without injury after a ute was hit by a train at Murray Bridge East over the weekend.
The vehicle became stuck on a railway crossing on Pfeiler Road around 2am on Saturday.
The driver and two passengers got out and tried to move it, but were unable to do so before a freight train came along and hit it.
The train's driver and the three motorists were all a bit shaken up, but otherwise unharmed.
Police are investigating how the crash might have happened.
There are no boom gates on the level crossing.
Watch out for speed cameras this week
If you're out and about in the Murraylands this week, be sure to watch out for speed cameras at the following locations:
Monarto: Old Princes Highway

Monarto South: Old Princes Highway

Murray Bridge: Adelaide Road, Hill Street, Mannum Road, Maurice Road, Standen Street, Swanport Road

Murray Bridge East: Old Princes Highway

Tailem Bend: Dukes Highway, Granites Road, Mallee Highway, Princes Highway
Fixed cameras remain in place on the South Eastern Freeway at Callington, and at the Maurice Road and Mannum Road traffic lights in Murray Bridge.
Drivers arrested for drug, licensing offences
Finally, Murray Mallee police have taken two motorists off the roads for alleged traffic offences over the weekend.
The first was a 49-year-old Victorian man who allegedly tested positive for methamphetamine while behind the wheel of a heavy vehicle on the Princes Highway at Monteith on Friday.
He was banned from driving for three months on the spot, and will face court.
The second was a 32-year-old Adelaide woman, pulled over on Oxford Street, Murray Bridge on Sunday.
Police allege she was driving without a licence and that she gave them a false name.
Officers declined to release her on bail ahead of an appearance at Murray Bridge Magistrates Court on Monday.
---
Your support helps Murray Bridge News tell important local stories – subscribe today.