Discover more from Murray Bridge News
The number-one news publication in South Australia's Murraylands, read by thousands of locals every week. Subscribe to our weekly email edition for free today.
Over 4,000 subscribers
Thomas Foods road construction begins
Murray Bridge company Spry Civil Construction is doing much of the work at a site on Mannum Road at Pallamana.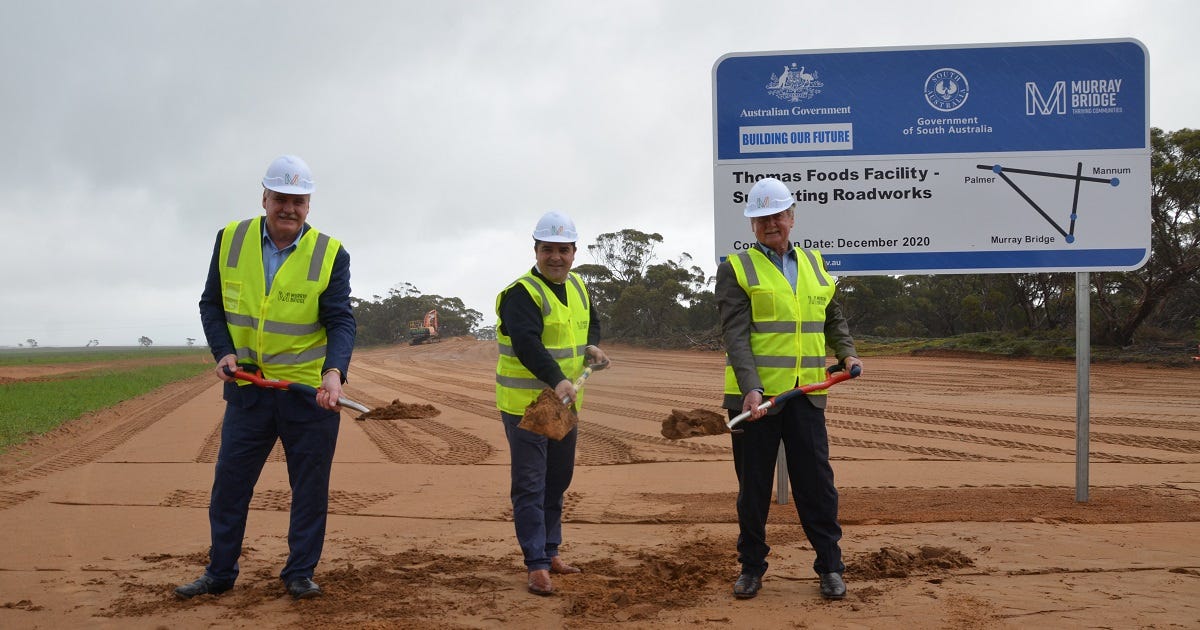 Progress is being made along the road to a rebuilt Thomas Foods International – literally.
Motorists on Mannum Road would have noticed an area of heavy construction in recent days: the first stage of work on what will soon be a tree-lined boulevard leading to the gates of Murray Bridge's biggest employer.
The new, 2.2-kilometre road will intersect Mannum Road just north of the Mypolonga turn-off, with turning lanes in both directions.
By the time TFI's new meat works is finished, about 2000 people will travel along it to work every day.
Better still, much of the work is being done by local company Spry Civil Construction, creating more local jobs in the meantime.
Director Sam Rasheed said he was proud that Spry could be part of such a "monumental" project.
"We've put on five (employees) in the last two weeks and another three or four we're putting on specifically for this project," he said.
"As of next week, we'll be up to about 25, mostly full-time, all 100 per cent local.
"Everyone says you can't find good employees locally, but we're doing it, and I take a lot of satisfaction in that."
Federal, state and local leaders visited the work site on Friday for that ancient political ritual: the sod-turning ceremony.
The state and federal governments have each provided $7 million toward the cost of building the road, while construction is being managed by the Murray Bridge council.
Mayor Brenton Lewis said agreeing to have the road built had been an important part of keeping TFI in the district.
"TFI is one of our largest employers and they are investing several hundred million dollars in this new, state-of-the-art processing facility," he said in a statement.
"The impact of the devastating fire that tore through the original facility in January 2018 was felt deeply throughout our community.
"TFI has shown great loyalty to our community and an unwavering commitment to re-establishing operations in our rural city.
"Council is proud to be playing a significant role in this infrastructure project to help make it happen."
In helping with TFI's rebuild, federal MP Tony Pasin said, the road would enable jobs to be created and sustained throughout the Murraylands and right along supply chains.
The works would also make Mannum Road safer for all motorists, he said.
State MP Adrian Pederick said the project demonstrated the state and federal governments' commitment to regional South Australia, and the Murraylands in particular.
Photo: Peri Strathearn.