Discover more from Murray Bridge News
The number-one news publication in South Australia's Murraylands, read by thousands of locals every week. Subscribe to our weekly email edition for free today.
Over 4,000 subscribers
How Sakinah Karras retraced her great-great-uncle's steps in WWII
A Murray Bridge High School student has won an Anzac Spirit School Prize for researching a family member.
This story was originally published behind Murray Bridge News' paywall. Paywalled stories are unlocked four weeks after publication. Can't wait that long? Subscribe here.
To his nation, Lance Corporal Edward Docking was a World War II hero, but to Sakinah Karras he was so much more.
Despite the dramatic difference in age between Ted and his great-great-niece – he was already in his eighties when she was only a toddler – the pair quickly formed a special bond.
"He'd lived with us since I was young, so I got to know him through an extremely close relationship," Sakinah, now a teenager, said.
"He was like a best friend."
They never spoke much about his time in the army before his death in 2011, aged 91, from cancer.
But he left behind enough mementos that Sakinah was able to piece together his story years later: medals, a uniform, a bayonet, books about re-integrating into civilian society, even a Japanese flag.
That story won the Murray Bridge High School student an Anzac Spirit School Prize last month, presented by state Education Minister John Gardner, and a 10-night trip to Darwin and Canberra next April, travel restrictions permitting.
---
Edward August Docking, pictured, was born on October 23, 1919, the youngest of three sons to August Docking and Clara Chapman of Pinnaroo.
Ted's father and a step-father both died while he was still young, and at the age of 14 he moved to Queensland to become a stockman so he might send some money home to his mother.
He returned home at the age of 22, but only so he could enlist in the Australian Army.
It was 1941, and his brother Gavis – "Snow" – had gone ahead of him.
Both wound up in the 2/10th Battalion.
Together they besieged an Italian garrison at Giarabub, in Libya, pictured, then travelled north to Tobruk as Axis forces closed in on the Allies there.
They raided the enemy repeatedly over the course of four months before being withdrawn to Palestine and Syria, then all the way home to Adelaide in March of 1942.
During the brief reprieve, he married his sweetheart, Shirley.
In August the 2/10th was sent to Papua to head off the Japanese in the Battle of Milne Bay, which they did, then to attack fortified positions at Buna, pictured below, where they suffered heavy losses.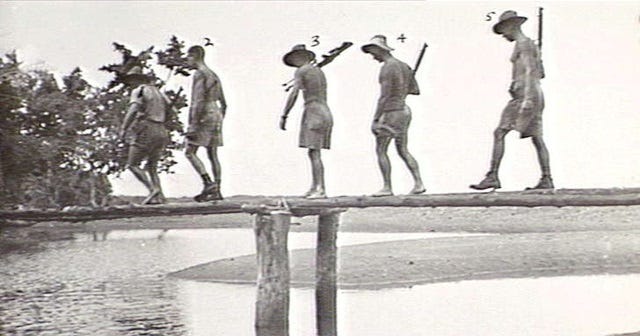 Snow was taken prisoner during the campaign, and three years would pass before Ted would find out whether the brother he had idolised was dead or alive.
His letters to his mother at the time showed the brave face he chose to put on.
"Try not to worry, won't you?" he wrote.
"We're getting back close now and I hope to God that we will see fit to return.
"Don't forget, Mother, that Snow's words were 'chin up and keep smiling always', 'cos that way we are bound to win."
He fought at Sanananda and Shaggy Ridge during 1943-44 before the 2/10th was redeployed again, to Balikpapan in Borneo.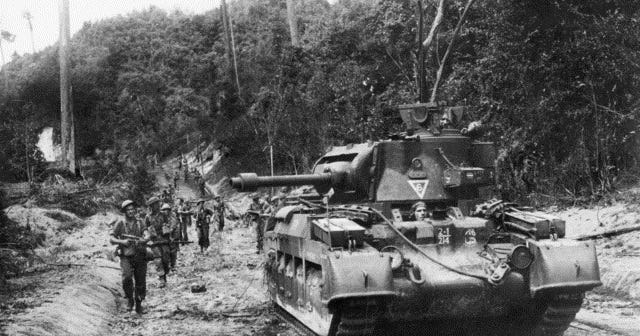 The Allies, pictured, drove the Japanese out of the port city in the weeks before their surrender.
Ted returned home in September, 1945.
His brother Snow was there waiting for him.
---
"I had always known so much about him ... it was just a matter of figuring out where to start," Sakinah said.
"I'd always known what he'd done, but (now) I was able to understand him in a context where everything was chronologically put together, from him coming back from work as a young teenager, to fighting with his brother, to where his brother goes missing and the rest of the war."
Thanks to a girl born in the next century, Ted Docking's place in history is now secure.
Asked what he might have thought about her winning essay, Sakinah hesitated a moment before answering.
"I think perhaps he would have felt proud ... seeing what I am now."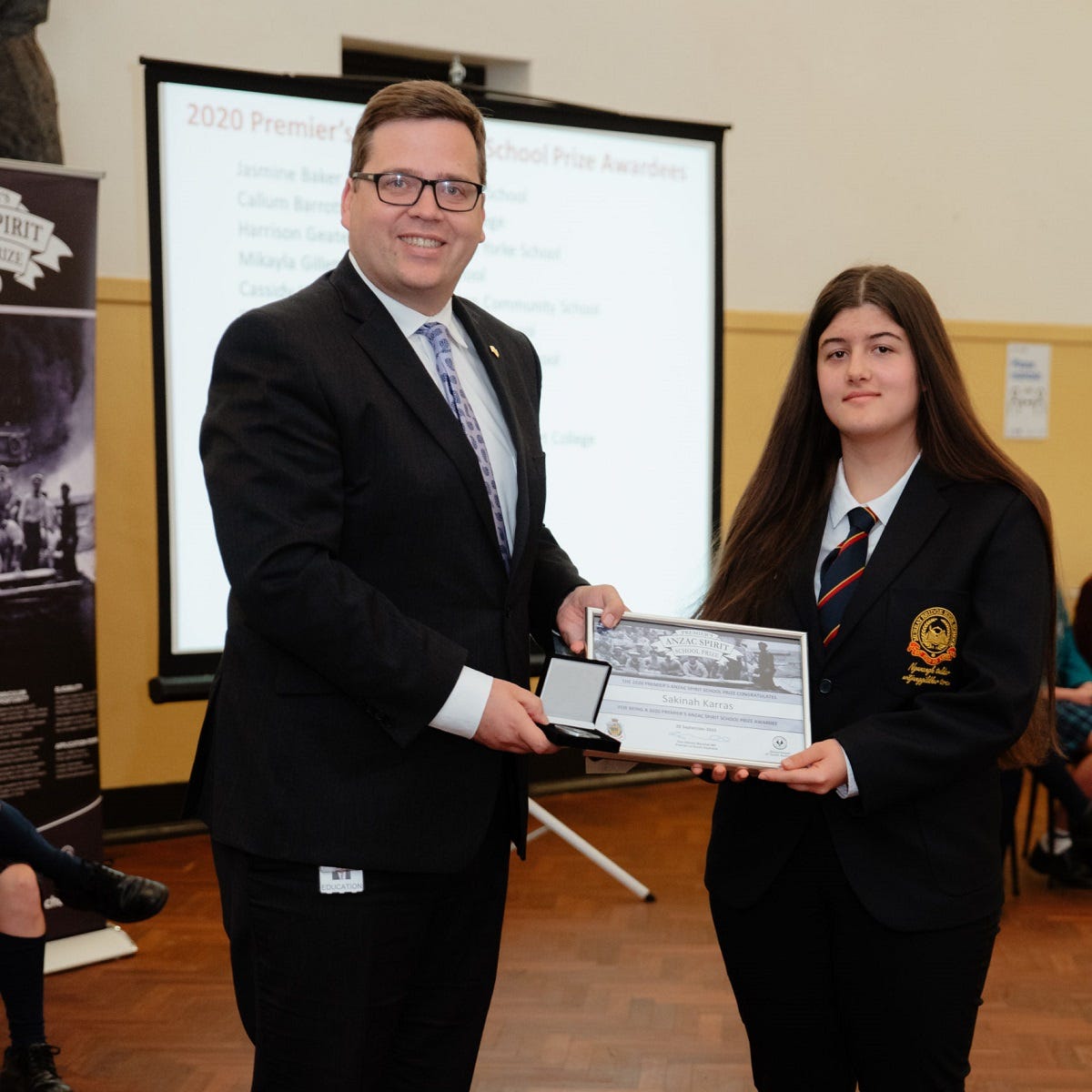 Photos of Tabitha and Sakinah Karras (top) and Education Minister John Gardner presenting the award (bottom): Veterans SA. Photo of Edward Docking: Sakinah Karras. Photos of members of the 2/10th Battalion at Giarabub, Buna and Balikpapan: Australian War Memorial (030386-10A, 127534 and 111056).