Discover more from Murray Bridge News
The number-one news publication in South Australia's Murraylands, read by thousands of locals every week. Subscribe to our weekly email edition for free today.
Over 3,000 subscribers
Staying fit in isolation has been a tricky exercise – until now
Reclink Australia shares sporting gear with Uniting Communities, Murray Bridge.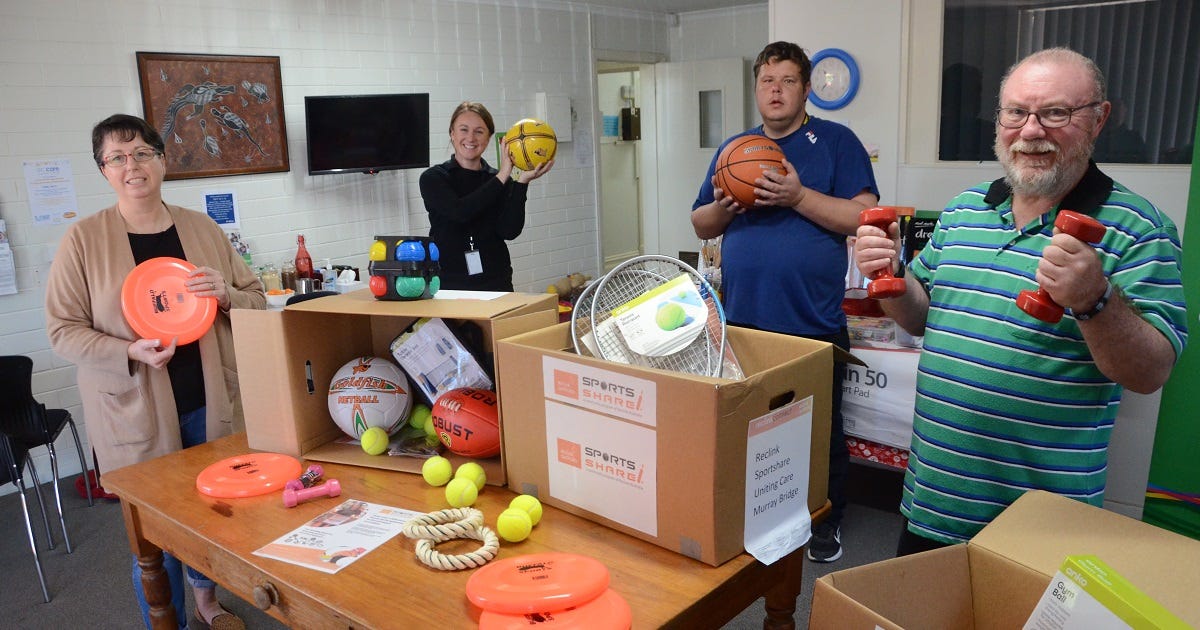 Donated sporting equipment will help some of Murray Bridge's most disadvantaged residents stay fit even in their coronavirus-forced isolation.
With gyms closed and almost all sporting activities cancelled, exercise has been hard to come by in recent months.
But an organisation called Reclink Australia has seen fit to change that for some of the people who need it most.
Andy Asser and Angie Mitchell unboxed a pile of gear at Uniting Communities, on Sixth Street, on Friday morning as part of the Sports Share program: tennis racquets and balls, footballs, basketballs, frisbees, table tennis equipment, quoits and more.
Some will be given out to people who might not otherwise be able to get their own, like Scott Hancock and Michael Spurrier, pictured; some will be kept at the support agency's office and loaned out.
Mr Spurrier, who chose a set of dumbbells and a skipping rope, was grateful for the "wonderful" gesture.
"I went for a walk this morning down Riverglades and I want to use the weights to walk with and do exercises with at home," he said.

"When the gym opens, on days I don't go to the gym I can use the skipping rope and dumbbells and keep my physical health as good as my mental health."
Reclink has also begun sharing workouts, mindfulness tips, challenges, yoga sessions and boxing lessons on its Youtube channel and Facebook and Instagram pages.
In less unusual times, the organisation has partnered with community organisations around Australia to provide opportunities for social inclusion through sport and art.
Photo: Peri Strathearn.