Discover more from Murray Bridge News
The number-one news publication in South Australia's Murraylands, read by thousands of locals every week. Subscribe to our weekly email edition for free today.
Over 3,000 subscribers
Sports round-up: Rifle club presents awards after 'unusual' season
Plus Jervois wins through to the RMFL grand final and Supercars' defending champ does well at The Bend.
This post includes contributions by Murray Bridge Rifle Club's Daniel Irvine.
Jervois wins right to face Imperials in RMFL grand final
Imperials and Jervois will play off in the River Murray Football League grand final after the minor premiers knocked off Ramblers on Saturday.
Justin Hardy had six goals for the Bluds while Josh Woodall, Clint Richardson, Josh Scott and Patrick Barrett were also named among the bests for Jervois, who won 12.9 (81) to 8.7 (55).
Best for Ramblers in the defeat were Aaron Pratt, Alex Pfeiffer, Matthew Hartman, Jarrad Weyland and Sam Pfeiffer.
Jervois may have finished the shortened season on top of the ladder, but Imps can claim a psychological advantage after beating them in two out of three meetings this year, including by a nice 69 points less than a fortnight ago.
The same two clubs will also contest the reserves grand final.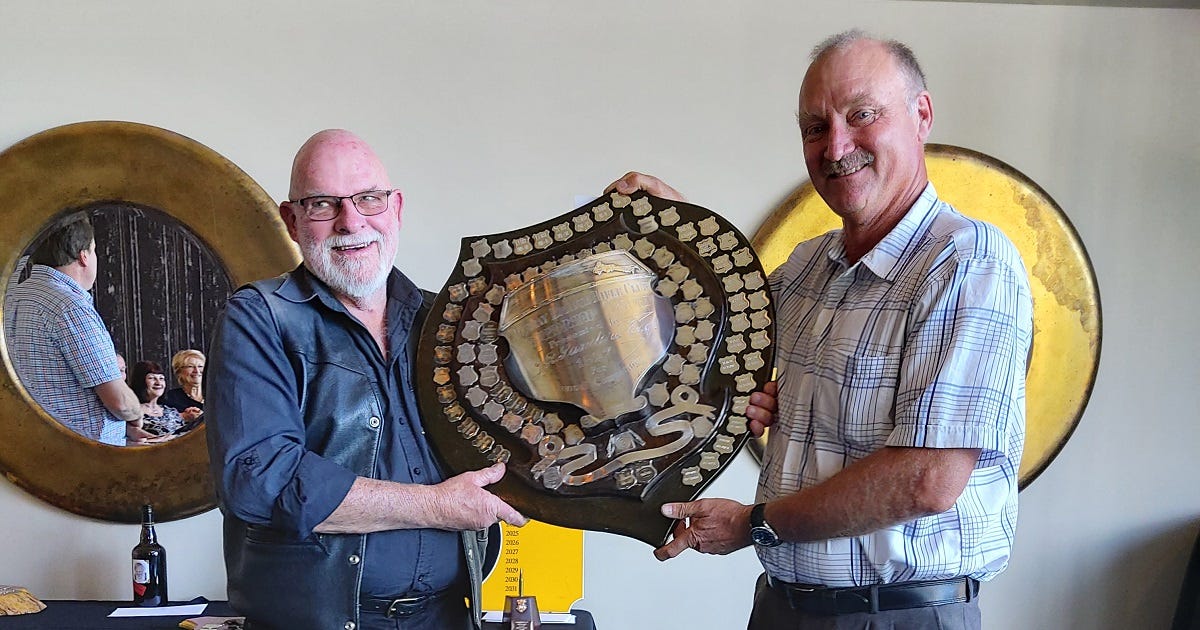 Rifle club finally presents annual awards for 2019-20
Twenty-three members of the Murray Bridge Rifle Club and their families have gathered at the Pretoria Hotel at Mannum for a presentation luncheon to celebrate a pretty unusual shooting year.
The season ran from July 2019 to the end of June 2020 and during the initial height of the COVID-19 pandemic five championship rounds of a possible of 32 were lost due to enforced closures.
In an effort to make the championship more accessible, members voted at the AGM in June to allow competitors to qualify with one less range than normal.
While the results proved closer than they would previously have been, the amendment did not ultimately make any difference to those who were named winners on the day.
Those winners were announced over the course of the afternoon by 2019-20 club captain Rob Paech, with help from life members, trophy sponsors, and the club's patron.
The overall snipers' categories were presented by life member David McDonald to Greg Traeger (TRA, 132.8), Daniel Irvine (TRB, 123.3), David Hindmarsh (FS, 139.5), Wayne Halliday (FO, 147.5) and Frank Marshall (FTR, 120.2).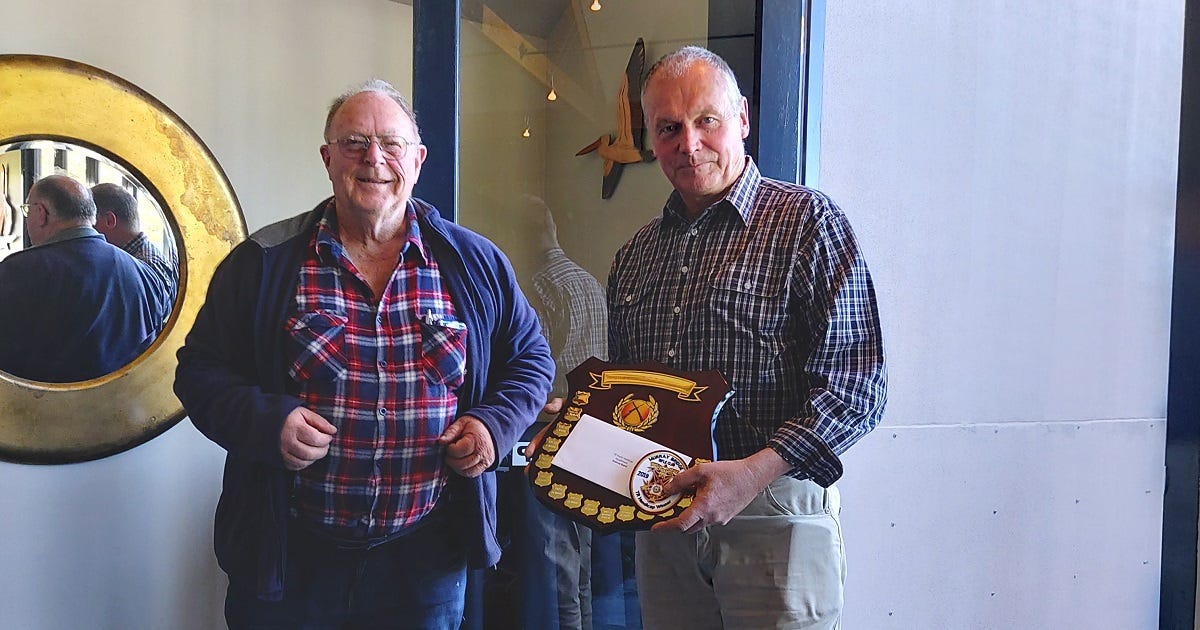 McDonald also presented handicap awards for short and long range, and life member Peter Byass presented shields and prizes to the overall handicap winners: Andrew Heard, pictured (short range TR, 453.3, and overall TR, 784.5); Ken Lynn (short range F-class, 501.7); Jasamine Irvine (long range TR, 336.4); Marshall (long range F-class, 370.1); and Ian Elston (overall F-class, 857.1).
Byass also had the pleasure of presenting the least desirable award for shooters, the overall Magpie Trophy winners, which this year went to McDonald in TR and Halliday in F-class.
A notable mention also went to Ian Taylor, who had the distinction of finishing second in both classes, not at all a common occurrence.
A funny moment occurred when Paech then called on John Cranwell to present his sponsored trophy, the "Cranwell 15" – not a new form of virus – only to find that the two men, pictured below, had to exchange trophies, as they were both the winners in their respective classes.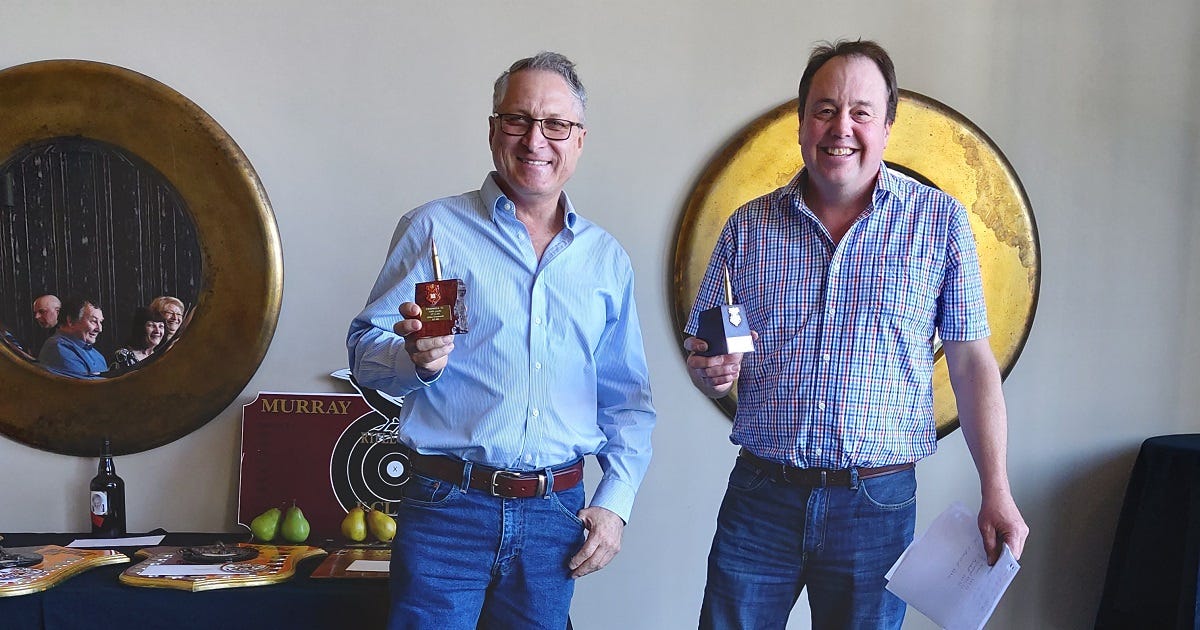 Following this, patron Larry Caspers was given the honour of presenting the coveted "off-rifle" awards for the best shooters in each class and grade over the course of the year. The top three in each category were:
TRA: Greg Traeger 593.46, Rob Paech 592.59, Andrew Heard 587.80

TRB: Daniel Irvine 549.29, David McDonald 549.21, Ian Taylor 529.18

FS: David Hindmarsh 652.17, Peter Byass 641.2, Ian Taylor 598.16

FO: Ian Elston 687.36, John Cranwell 682.33, Frank Marshall 665.33

FTR: Frank Marshall 627.16
The day finished with the presentation of several other special prizes by Caspers, including the Paul Janzo Trophy for the best three 1000-yard scores in F-class, which went to Halliday.
The TR equivalent, the Jack Caspers Memorial Trophy, was won by Traeger.
Caspers also presented the Patron's Trophy for the best percentage handicap score at the final 800-metre range of the year, which went to Heard.
Last but not least, the Pairs Trophy was presented to Daniel and Jasamine Irvine, the first time a husband and wife combination has been able to, firstly, be randomly drawn as a pair and, then, to actually win the annual competition.
After a delicious lunch and a convivial team atmosphere was enjoyed by those present, Paech concluded the afternoon by thanking all the members for their attendance and wishing them a safe, happy, and hopefully much less eventful 2020-21 season.
Photos of Larry Caspers and Greg Traeger (top), Peter Byass and Andrew Heard (middle), John Cranwell and Rob Paech (bottom): Daniel Irvine.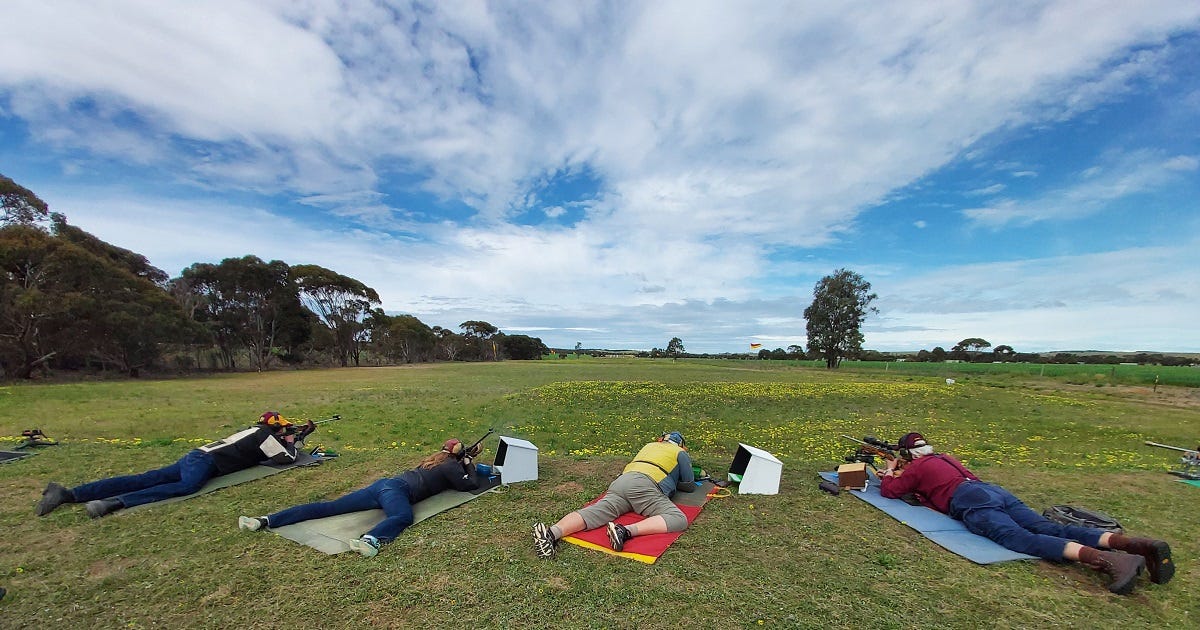 Shooters take their chances at 1000 yards
The previous day, a dozen Murray Bridge Rifle Club shooters had taken their chances with the weather to turn out for 1000 yards.
Despite some heavy rain earlier in the day, everyone was able to stay dry, although a few might have finished the day wishing that were had been rained out as conditions proved interesting.
A strong breeze persisted from the left all afternoon, with significant and sometimes sudden changes.
However, that didn't stop a couple of shooters recording impressive scores.
In F-class the stand-out was Ken Lynn, who – apart from getting a sniper's score of 23.02 – also shot a pair of 57s to secure top off-rifle in F-open and the F-class handicap for the day by a massive 14 points.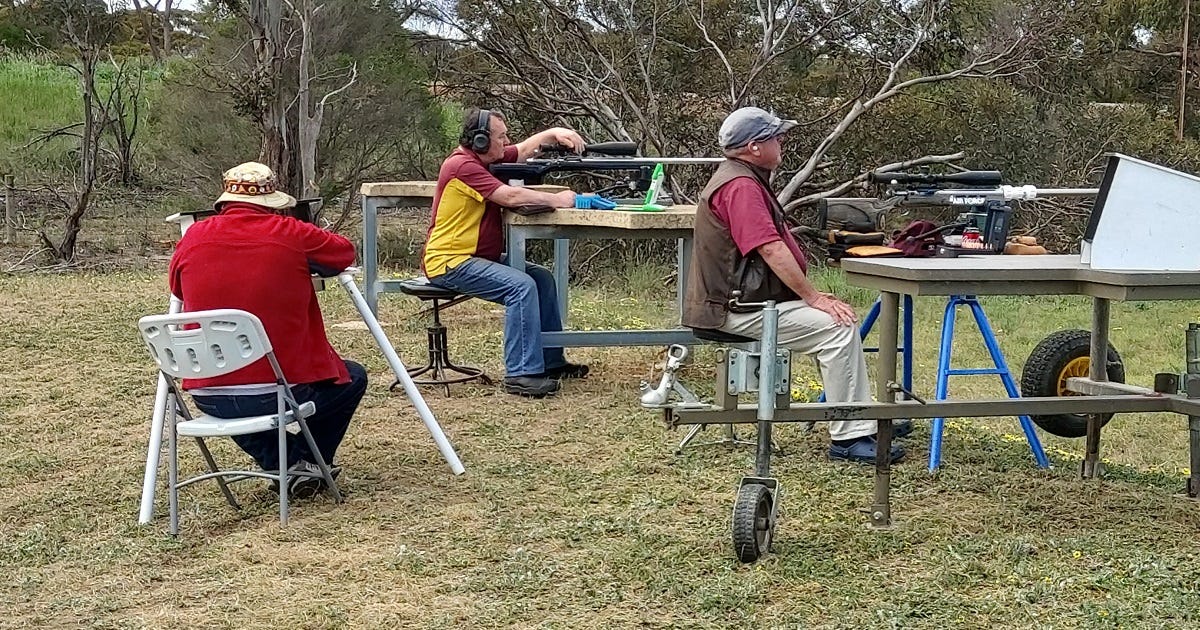 On accepting the handicap prize, Lynn gave special thanks to clubmates Wayne Halliday and Ian "Nobby" Elston, pictured above, for coaching him in the importance of winding his scope the right way.
The other stand-out was Greg Traeger in target rifle, who shot a 48 and a possible to win top off-rifle in that category by an imposing eight points, as well as the handicap award.
An honourable mention went to David McDonald in F-standard who, now with a scope attached, won top off-rifle in the class for the first time.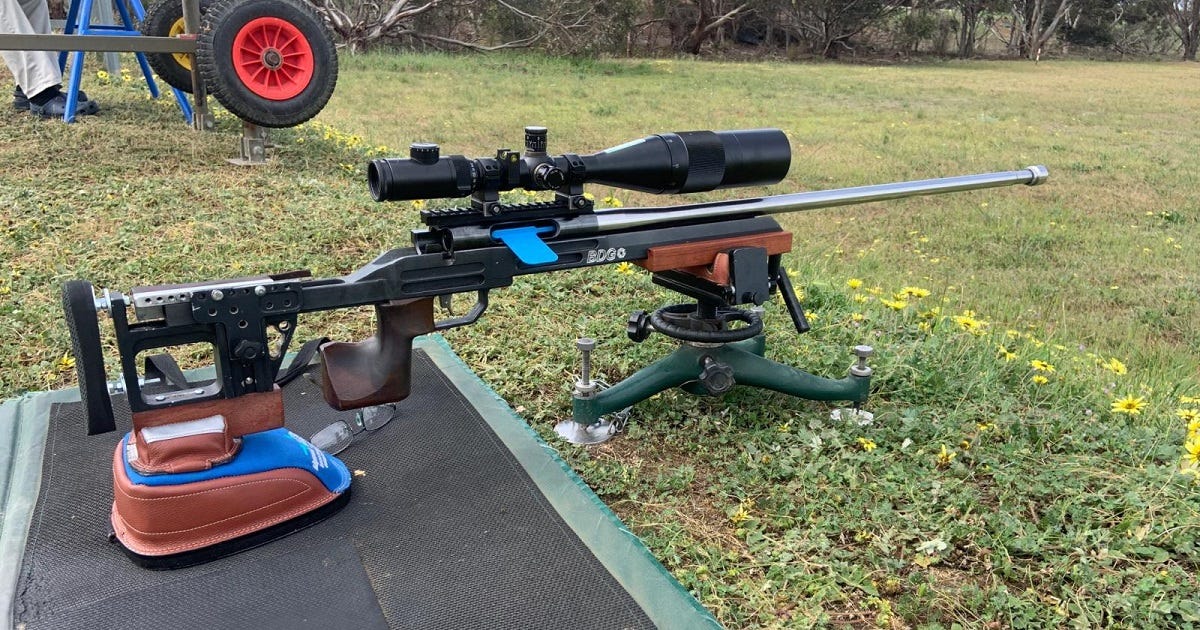 His winning ways also extended into less desireable territory, claiming the F-class Magpie Award as well with two "birds".
Others who had a day they'd maybe rather forget included Daniel Irvine, who claimed the Magpie Award for TR with three "birds" and a score of 75.03 that included a one; and Rob Paech, who shot an 89.03 that included a very rare – for him – cross fire.
Most shooters will hope for an improvement next week when they turn up to shoot 700 metres.
Photos of Rob Paech, Jazz Irvine, Gordon Harrison and Frank Marshall (top), Ian Elston and Wayne Halliday (middle), and David McDonald's F-standard rifle (bottom): Daniel Irvine.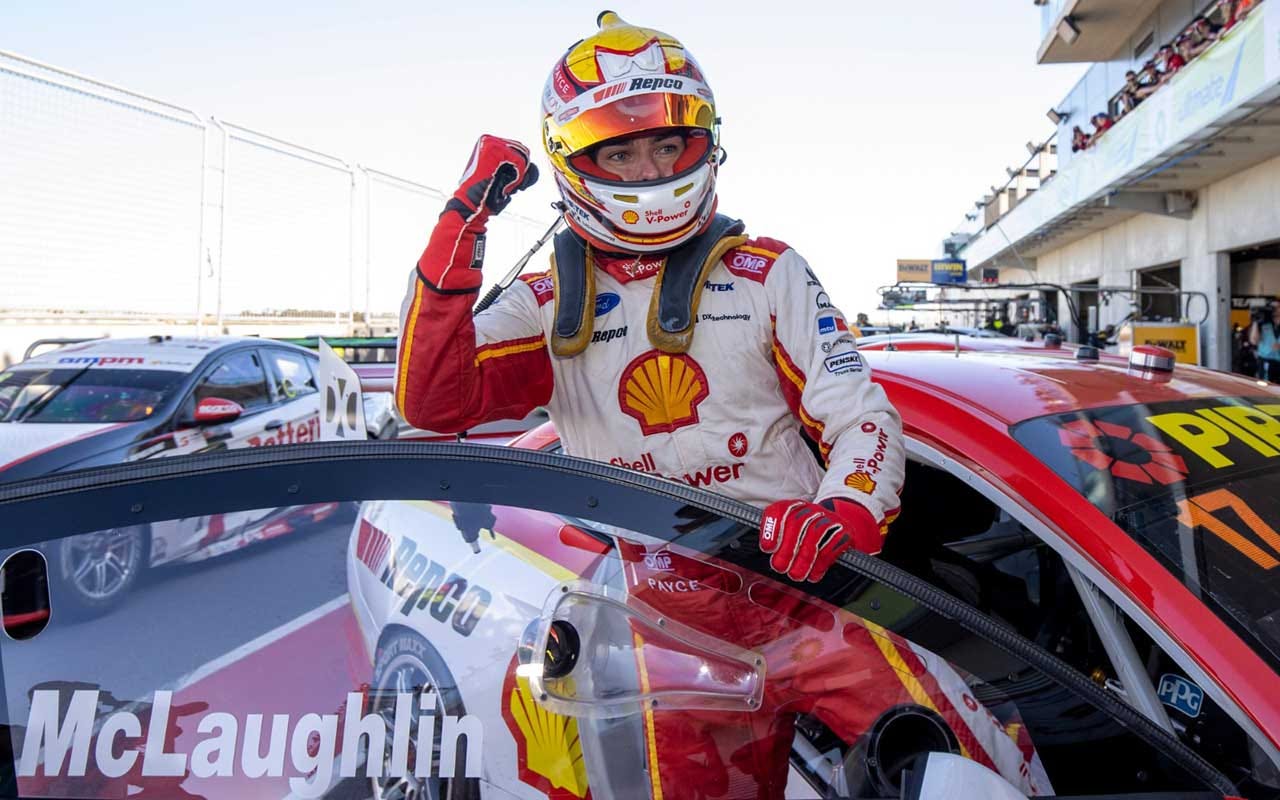 Scott McLaughlin comes out on top at The Bend
Shell V-Power Racing's Scott McLaughlin has edged closer to claiming his third successive Supercars championship after winning one of three races at The Bend Motorsport Park over the weekend.
McLaughlin, pictured, also placed third in another of the races to consolidate his grip on first place in the championship.
His teammate Fabian Coulthard won Saturday's race at The Bend, while Red Bull Holden's Shane van Gisbergen claimed race two on Sunday.
All Supercars teams will be staying in the region ahead of the next round of the championship, where the title could be decided: the OTR Super Sprint at The Bend next weekend.
Photo: Supercars.com.
What's been happening at your sports club?
Murray Bridge News is happy to share news, results or photos from sporting clubs throughout Murray Bridge and the surrounding region, free of charge.
Email murraybridgenews@gmail.com or call Peri Strathearn on 0419 827 124 if your club would be interested in having something published.