Discover more from Murray Bridge News
The number-one news publication in South Australia's Murraylands, read by thousands of locals every week. Subscribe to our weekly email edition for free today.
Over 4,000 subscribers
Riverboat age returns as Tailem welcomes first cruise in years
Works at Dickson Reserve, Tailem Bend will allow tourist boats – and more houseboats – to dock at the town.
This story was originally published behind Murray Bridge News' paywall. Paywalled stories are unlocked four weeks after publication. Can't wait that long? Subscribe here.
The golden age of river travel has long since passed, but a renaissance could be on the way.
The paddleboat Captain Proud docked at Tailem Bend this morning for the first time in almost a lifetime, courtesy of a newly installed pontoon at Dickson Reserve.
The town now has the facilities needed to welcome boats of up to 22.5 metres in length and 110 tonnes in weight for the first time since the mid-20th century.
State MP Adrian Pederick, in his first public engagement since his recent demotion, and Coorong Mayor Paul Simmons officially opened the facility.
Mr Pederick hoped it would allow local businesses to capitalise on the extra 340,000 visitors expected per year at The Bend Motorsport Park once COVID restrictions allowed it.
"There's an opportunity to further enhance Dickson Reserve as a key boating hub," he said.
"This pontoon will enable tour boats and other leisure craft to secure their vessels, and visitors to walk up the existing staircase to access businesses and tourism opportunities including … Old Tailem Town and the golf course."
Cr Simmons said the pontoon and other recent upgrades to Dickson Reserve – including the installation of new houseboat moorings and removal of several willow trees – would open up the waterfront for use by locals, as well.
"The Murray River is a fantastic natural asset and is right on our doorstep," he said.
"We want to share it.
"Our local businesses will also benefit from the tourism boost, which has come at a time when our tourism and hospitality industry is still feeling the impacts of the COVID-19 pandemic."
Geraldine Dickson, widow of the man for whom the reserve was named, said Peter would have been proud.
"It's wonderful," she said.
She couldn't recall many cruise boats visiting Tailem since one called the Showboat in the 1940s.
The reserve upgrades were funded in part by a $125,000 grant from the state government's South Australian Boating Facilities Fund, money raised through a levy on boat registrations.
Everyone wants a piece of river tourist trade
The Coorong council is not the only one which has sought to capitalise on the lure of the River Murray recently.
Murray Bridge's council is now preparing to overhaul its own wharf facilities over the coming months as part of a broader vision for Sturt Reserve.
The concrete wharf where the river cruiser Proud Mary previously docked will be removed, and a pontoon will be floated in front of the regional rowing centre now under construction.
The council recently reinforced a path leading from the wharf up to the Round House to accommodate cruise passengers.
At Mannum's Mary Ann Reserve, the Mid Murray Council has also added new docking facilities and reinforced the river bank over the past two years.
Steam may no longer be the primary mode of transportation along the Lower Murray, but several biggish boats will now be able to dock at Tailem Bend if their operators are so inclined, including the PW Mayflower and private cruisers.
It is unclear whether docking will still be impossible for larger vessels, such as the 31-metre-long PS Oscar W or 47-metre PS Marion.
But the biggest cruiser to regularly pass through the Murraylands, the Murray Princess, will not be able to visit – it is too tall to fit beneath the old road bridge at Murray Bridge.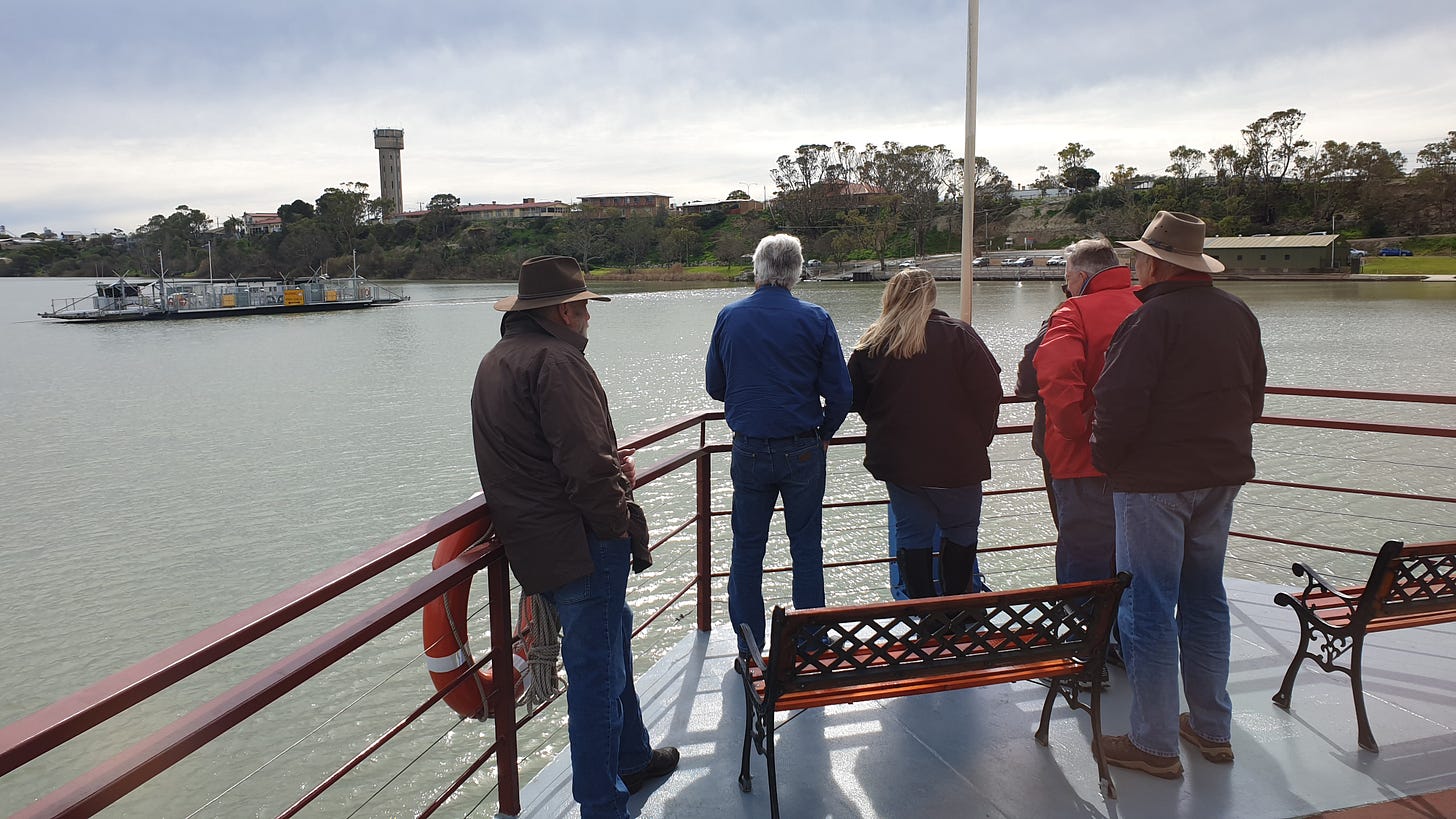 Photos: Peri Strathearn (top, second from top, bottom), Coorong District Council (third from top).