Discover more from Murray Bridge News
The number-one news publication in South Australia's Murraylands, read by thousands of locals every week. Subscribe to our weekly email edition for free today.
Over 4,000 subscribers
Retailers hope for recovery, but Bridge Street may never again be what it was
Will the main street ever fill with shops again, or are offices the future? We asked business owners.
This story was originally published behind Murray Bridge News' paywall. Paywalled stories are unlocked four weeks after publication. Can't wait that long? Subscribe here.
Will Murray Bridge's main street ever return to what it once was?
I visited dozens of Bridge Street businesses to gauge their owners' moods on Wednesday, as the city emerges from the hibernation of the coronavirus pandemic.
Worst-case scenario has been avoided … so far
Most felt the impact of the coronavirus had not been as deep or long-lasting as they had feared early on.
Some, like Elite Barbers owner Linda Clifford and Murray Bridge Tattoo Studio apprentice Avarie Holt, said customers were returning and conditions improving.
Property manager Arran Stibbs said First Real Estate was actually busier than ever, as buyers were still enthusiastic about investing in Murray Bridge.
Even sporting goods retailer Sportspower was doing okay, said owner Richard Crane – what they had lost in footy boots and netball gear, they had gained in home gym and fitness equipment.
"We're noticing a drop-off in customer numbers, but the dollar spend is probably greater," he said.
"If they're seeing it, they're grabbing it.
"We're not as bad off as we thought we'd be."
But there were exceptions.
Bridge Street Trophies and Partyware owner Craig Atze had his fingers crossed for the return of winter sport, as end-of-year awards were a mainstay of his business.
Worse, his next best income stream came from selling lollies and sweets at markets – all of which had been cancelled due to the pandemic.
Gloria Butler said it had been hard going at bakery and coffee shop Pies 4 U, too.
"Hopefully we'll be able to keep staying afloat," she said.
"This week has been pretty good ... so we hope business picks up from here.
"Hopefully we can all struggle through this together."
Country Blooms' Monica Edwards worried that the worst was yet to come.
"It hasn't been too bad, but I'm sensing there'll be a downturn," she said.
"People were out spending money, but that's slowing down now.
"It's very uncertain."
Council 'refresh' now a secondary concern
Business owners did not know much about the works the Murray Bridge council was doing along the street at the moment: installing new garden beds, bins and street furniture as part of a "refresh" of the main drag.
But most appreciated that an effort was being put in.
That said, street lighting, car parking and the half-dozen empty shop fronts remained issues for many.
The idea that the street could someday be narrowed to one lane each way, and more parks added, remained in the back of a few minds.
Hittin' the Street owner Daniel Gibson even suggested the council add a second storey to the car park on Third Street.
Precinct's future hangs in the balance
At present the street is in a state of balance between its retail past and a white-collar takeover.
Behind the 52 doors on Bridge Street are 14 shops and 15 providers of professional services: lawyers, banks, real estate agencies and so on.
Another six are cafes or other eateries.
Did business owners think Bridge Street would ever again be a bustling retail hub?
More retail would be help make Murray Bridge a tourist destination like Nuriootpa, Mount Barker or Hahndorf, Mr Gibson said – "people don't come up from Adelaide to shop in the malls".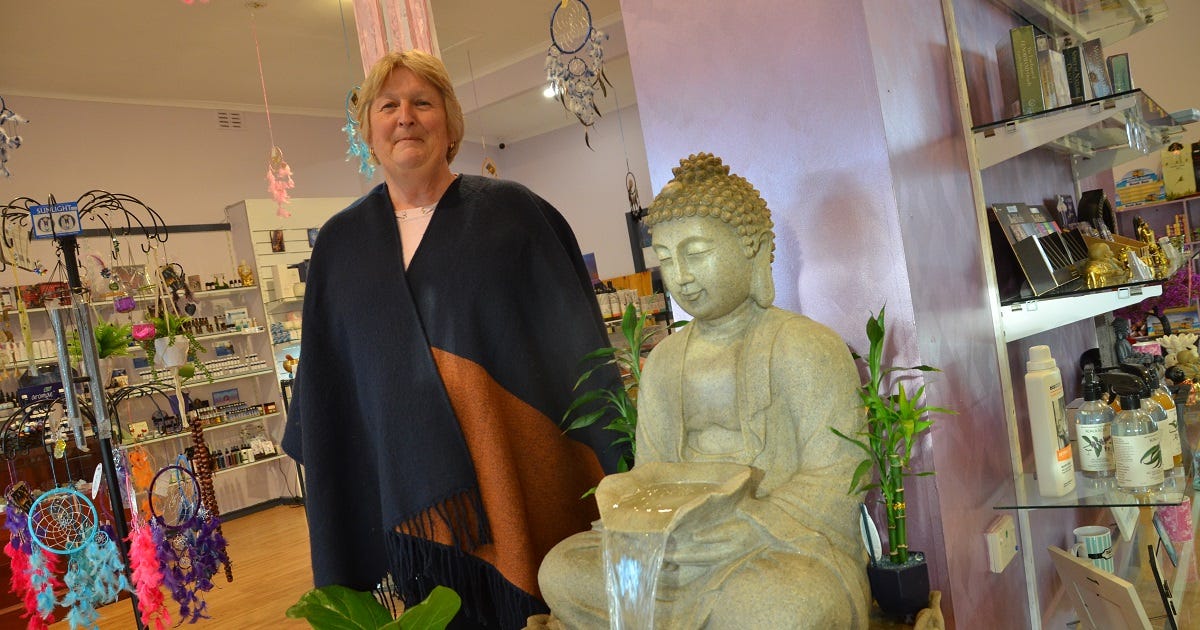 Step 'n' Stones owner Pauline Carlton agreed.
"This street could lots to offer people if the shops could survive," she said.
"The rents are the killers and council rates are high, but it would be nice to see it like it was – busy – years ago."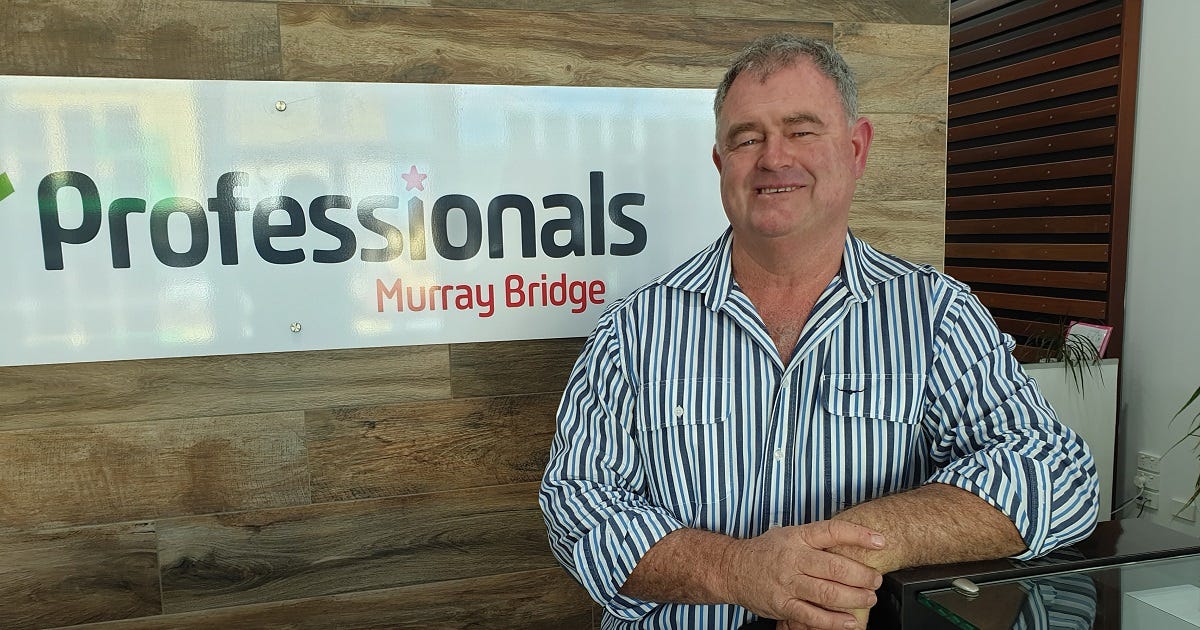 But almost everyone said the long-term future would remain unknown for some time yet – and that the completion of the Bridgeport Hotel at the end of the street, early next year, would be key.
"Once we have businesses return to Murray Bridge as a whole, the main street will fill," Professionals Real Estate principal David Clarke said.
"Once Thomas Foods gets going, the Bridgeport gets up and running, the next stage of works start at Monarto Zoo, there'll be more people here and more need for businesses in the main street."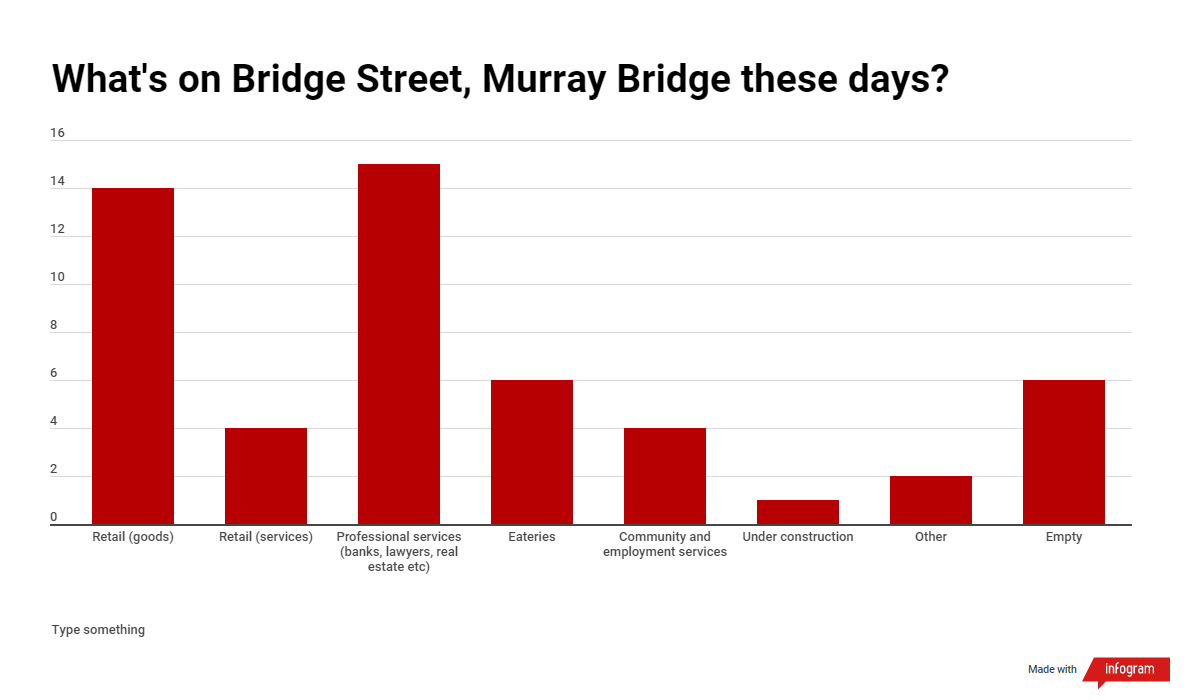 Photos, graphic: Peri Strathearn.