Discover more from Murray Bridge News
The number-one news publication in South Australia's Murraylands, read by thousands of locals every week. Subscribe to our weekly email edition for free today.
Over 3,000 subscribers
R U OK Day: One question can change a life, volunteers say
Silent Ripples' Elaine Work and other locals say it's important to start conversations about wellbeing.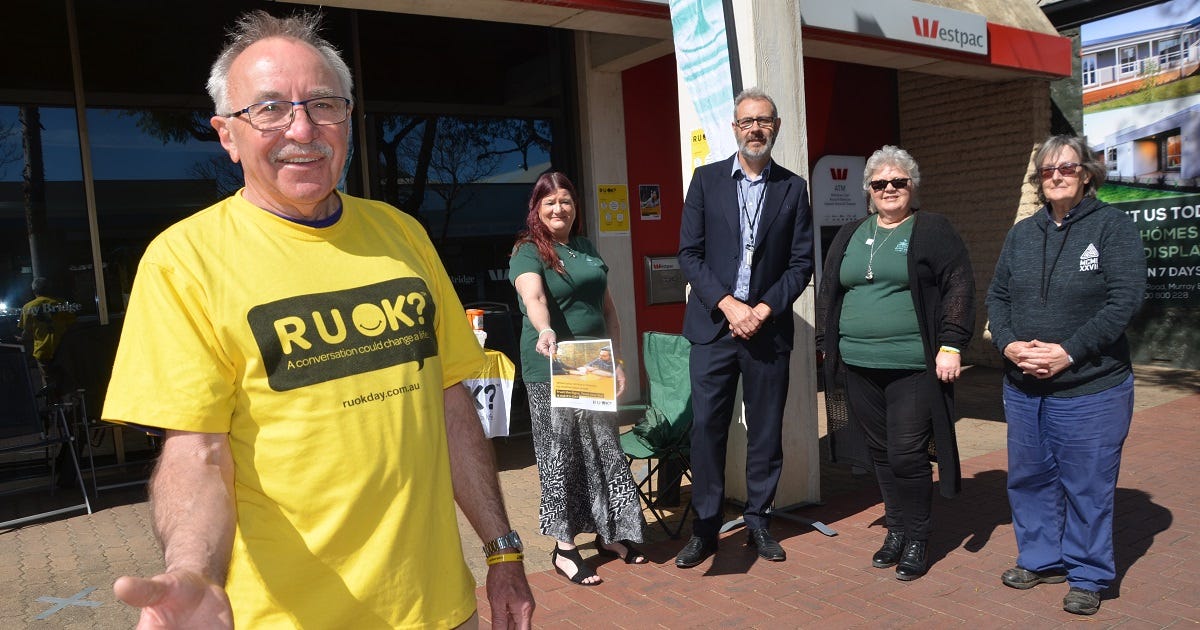 Asking "are you okay?" does more than just gauge someone's mood – it can unravel a lifetime of sorrow, Elaine Work says.
That was the best thing about getting out and talking to people on R U OK Day, the Silent Ripples volunteer – pictured on the right – said at a stall on Murray Bridge's main street on Thursday morning.
"From time to time there are people who stop (to chat) who've had losses through suicide years ago and are relieved to have someone to talk to," she said.
"When my brother died, it wasn't kosher to talk about.
"Particularly people from my parents' generation who've suffered the loss of a child to suicide, they've come and cried and cried.
"To me, that's the greatest value in us being here – there's that person who's been grieving for years silently and had nowhere to go to express it."
Mental health-focused organisations including Silent Ripples, Murray Bridge Suicide Prevention Network and the Murray Mallee GP Network were out on the streets on Thursday, R U OK Day, urging everyone to start an honest conversation about their wellbeing.
But conversations needed to be about more than asking a single question and getting an answer, Silent Ripples' Trevor Smith said.
"There's a whole series of things that will occur: listening without judgment, encouraging action and following up," he said.
He and other volunteers were handing out useful information on Bridge Street between 10am and 2pm on Thursday.
Over at The GCS, on Adelaide Road, customers who ordered small coffees were given them for free from staff members in bright yellow R U OK aprons.
Flags, flyers and cake toppers gently invited people into a neighbouring space set up by the GP network and Headspace, where a free raffle and more handy info was available.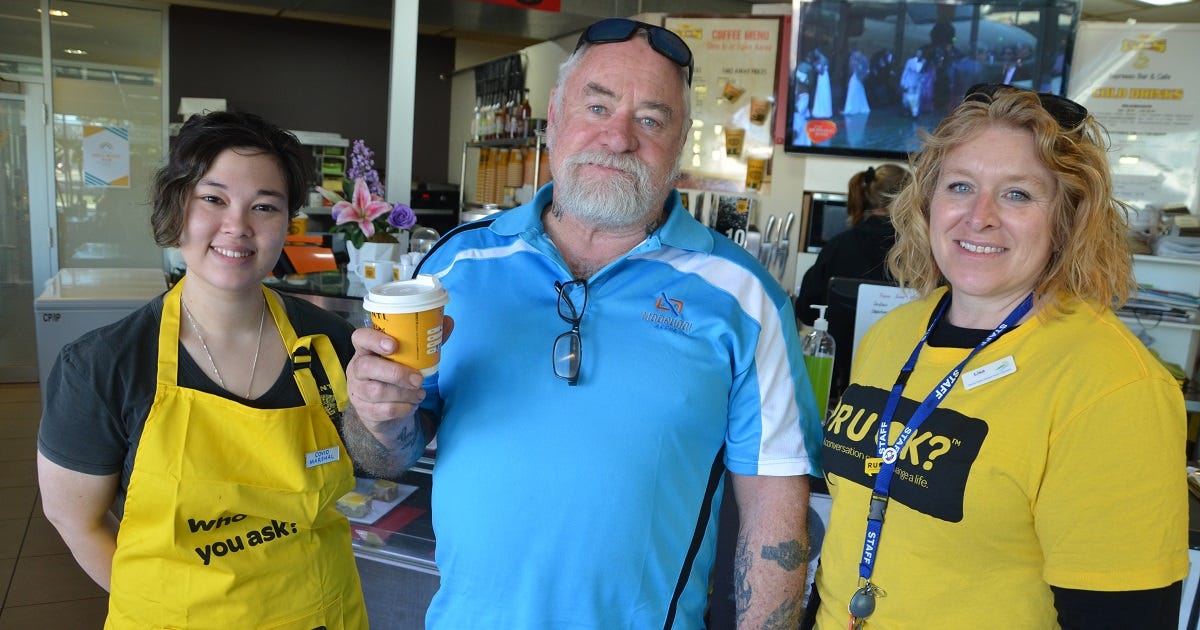 Signs listed nine steps to wellbeing, in no particular order:
Get involved

Connect with nature

Connect with others

Eat well

Limit your alcohol and drug use

Sleep

Exercise

Make time for self care

Seek help
Clinician Lisa Courtney said there was no need for such a stigma to exist around mental health – it was something everyone dealt with every day, whether in obvious ways or not.
"Every day should be R U OK Day," she said.
"I think we're getting better as a community at having conversations."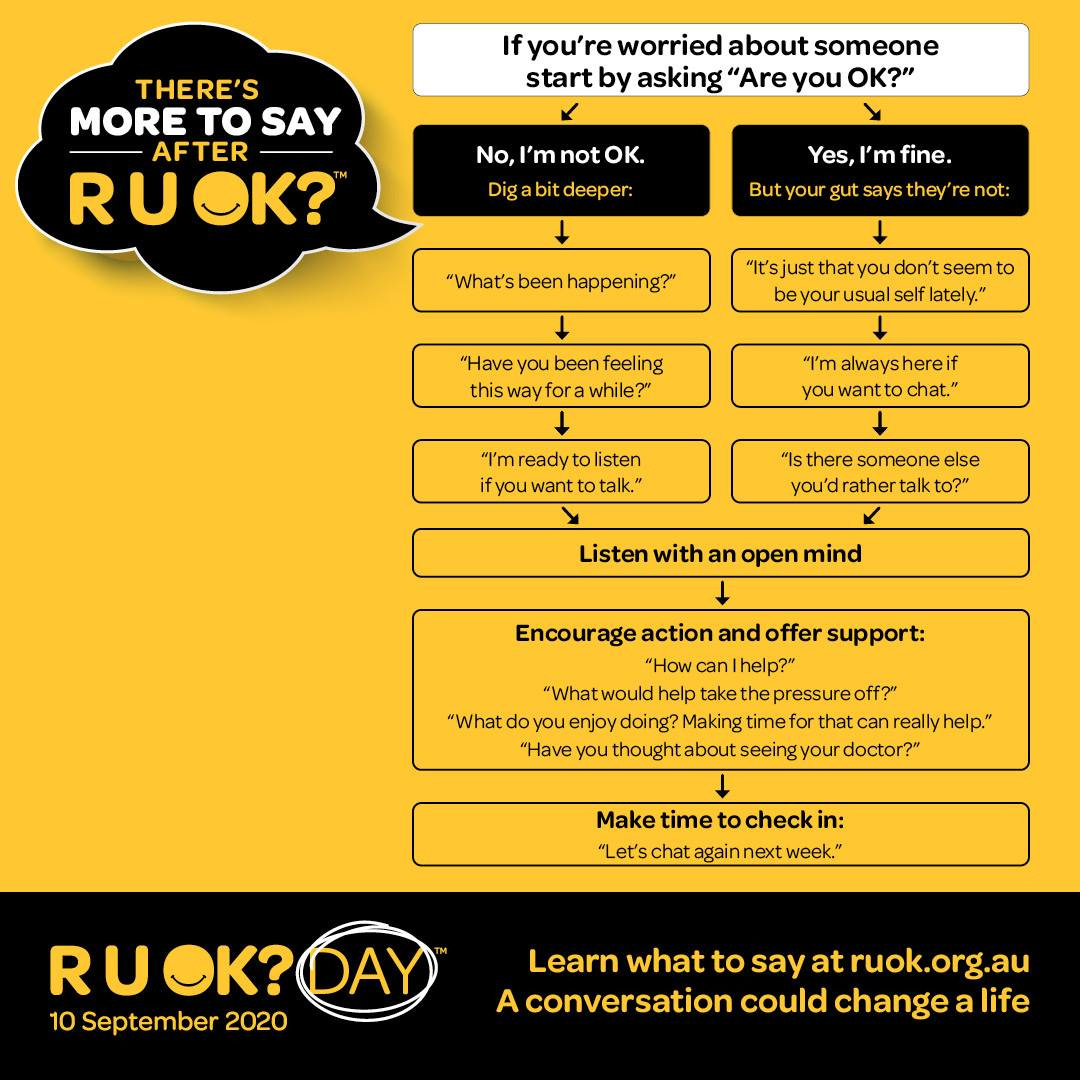 Photos: Peri Strathearn. Video, flow chart: R U OK Day.