Discover more from Murray Bridge News
The number-one news publication in South Australia's Murraylands, read by thousands of locals every week. Subscribe to our weekly email edition for free today.
Over 4,000 subscribers
Thousands come to Murray Bridge for Punjabi Virasat Cultural Mela
A celebration of Punjabi culture has returned to South Australia's Murraylands for the first time since COVID-19, and almost 4000 people have joined in with the fun.
Locals support locals – that's why this recent post is now free to read. Your support can help Murray Bridge News tell important local stories. Subscribe today.
Thousands of people have descended on Murray Bridge for a celebration of Punjabi food, music and culture.
The 2023 Punjabi Virasat Cultural Mela, held at Murray Bridge Racecourse earlier this month, was the first since 2019.
Headlined by performances from singers Lovely Nirman and Parveen Bharta, the event also featured dances, volleyball and a tug of war.
Organiser Jagtar Singh Nagri said there were maybe 30 Punjabi families in the Murraylands.
More were scattered across the state: in Mount Gambier, Millicent and the Riverland.
There were some in Adelaide, too; but Mr Singh said more recent migrants tended to settle in regional areas where it was easier to find work and a place to live.
"The problem is houses," he said.
"If (there were) houses, maybe everyone (would) live here, but this is a problem.
"A lot of people are working at the mushroom farm, a lot of people are working at Thomas Foods, some are working in aged care or disability, but the problem is renting - there is no house here.
"If many (developers) built houses, maybe many families (would) live here."
About 4000 people attended the festival on October 15, according to the Murraylands Multicultural Network.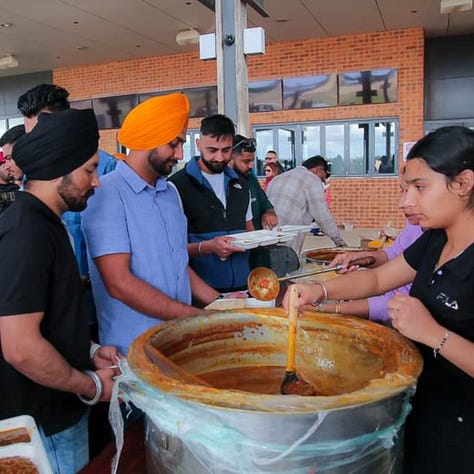 The Punjab region, known historically as the Land of the Five Rivers, has a population of about 190 million people, spread across northern India and Pakistan.
About 240,000 Australians said they spoke Punjabi at home at the last census, according to the Australian Bureau of Statistics.
That made it the fastest-growing language in the country.