Discover more from Murray Bridge News
The number-one news publication in South Australia's Murraylands, read by thousands of locals every week. Subscribe to our weekly email edition for free today.
Over 4,000 subscribers
Four arrested after police car wrecked on Myall Avenue
Murray Bridge police had to run away as drunken partygoers threw rocks and bottles.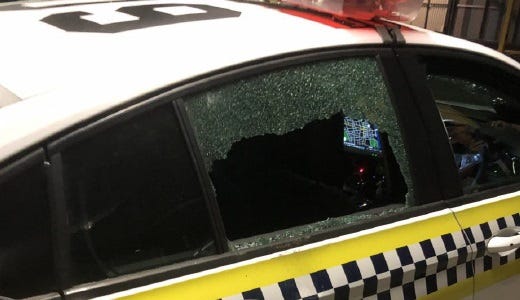 Four people have been arrested after drunken louts wrecked a police car in Murray Bridge early on Friday morning.
Around 2am, officers had responded to a report of a large gathering of people and loud music at a house on Myall Avenue.
They allegedly found about 20 people there, twice as many as are permitted by the current coronavirus restrictions.
All "appeared to be intoxicated", according to police, and they quickly became aggressive.
When the partygoers began throwing bottles at them, officers resorted to capsicum spray, called for backup and retreated on foot.
The police were not injured, but had to leave their car to the mob.
When they returned later, they found it extensively damaged by rocks and bottles, with the windscreen smashed by a large rock, a rear window broken and side panels dented.
Supported by the State Tactical Response Team, local officers returned to the scene during the day and arrested four people: two Murray Bridge men, 24 and 25; and an 18-year-old woman and 17-year-old boy from Raukkan.
Each was charged with aggravated affray; the boy was also charged with property damage and two counts of throwing a missile.
All except the 24-year-old were released on bail.
All were due to be fined $1000 for breaching COVID-19 restrictions.
Anyone with information about the incident should contact Crime Stoppers on 1800 333 000 or at www.crimestopperssa.com.au.