Oscar's bravery inspires Murray Bridge community to dig deep
Forty-two people have raised almost $40,000 for the Leukaemia Foundation in solidarity with the Noye family.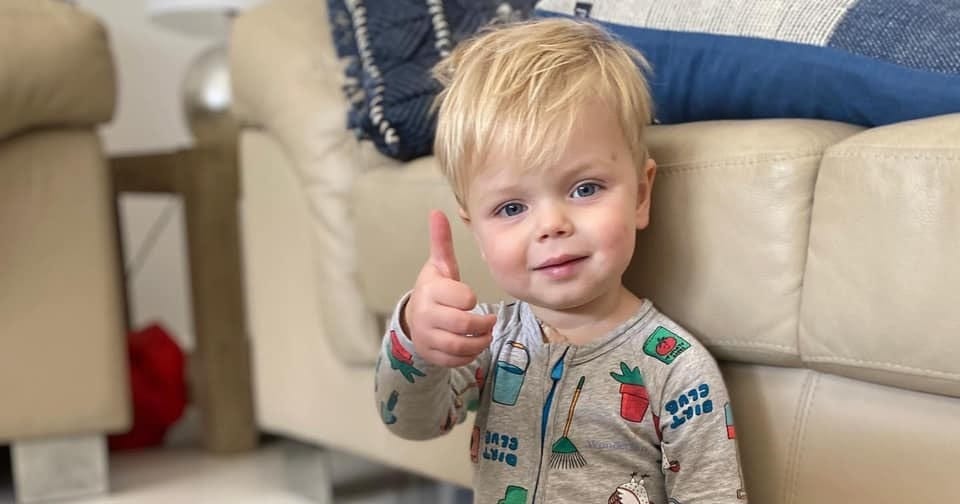 A Murray Bridge toddler's leukaemia diagnosis has inspired almost $40,000 worth of donations to the fight against the disease – and made 42 people promise to shave their heads.
Six weeks have passed since Josh and Amelia Noye learned their son Oscar would have to undergo treatment for blood cancer.
The two-year-old's prognosis is good, as the doctors found the disease early and he has responded well to treatment.
But the family has had to stay in Adelaide to be closer to the Women's and Children's Hospital, and around two and a half years of visits still lie ahead.
The young dad said he had struggled with feelings of powerlessness at first, as Oscar's wellbeing was almost entirely dependant on others.
"He's only two years old, which means he's a mummy's boy – what he has wanted and needed is comfort from Mum," he said.
"(Fundraising) was something I wanted to contribute to, for us and for others in the same situation.
"I wanted something I could control."
He admitted some initial reluctance to shave off his hair – "I put a fair bit of work into it" – but seeing Oscar's bravery strengthened his resolve.
He registered for the World's Greatest Shave, the Leukaemia Foundation's annual fundraiser, last month.
Since then, people from around the River Murray Football League, Unity College and broader community have rallied around the family, showing "incredible" generosity or agreeing to fundraise in their own right.
In particular, Jervois Football Club members had enfolded his family just as they had the Burkett and Aunger families in past times of grief, he said.
Even people now aged in their 80s who had served on the Bluds' committee with his grandfather had passed on donations.
Old mates and footy stars answer the call
Homegrown AFL players Chad Wingard and Jarrod Lienert are also among those who have signed up to shave their heads.
Wingard said his friendship with Mr Noye went back to year six, through footy and school.
"Oscar, he's exactly like his old man, he's pretty cheeky," he said.
"I met him in the first week after he was born – Josh was the first of us best mates to have a child, so he got a lot of support from all of us."
The diagnosis had come as a shock, he said, but within hours he and the boys had started brainstorming ways they could help.
He, too said he would farewell his photogenic hairstyle.
"I've never done it before – I'll have to ask my old man what to expect," he said with a laugh.
"I might have to invest in a few beanies."
'We're so grateful for Murray Bridge people'
Mr Noye has begun organising a mass shave for July 4.
Coronavirus-related restrictions could yet make it difficult, but he hoped participants and their families would at least be able to join in by video link.
"Hopefully we can get it to the point where all 42 can do it on the same day," he said.
"Lots of local hairdressers have volunteered their time on that day."
In the meantime, he urged everyone to donate to the Leukaemia Foundation, which supports patients' families and invests in medical research; or to donate blood through the Red Cross.
On behalf of the family, he also thanked everyone who had offered their support in any form.
"We're so grateful for Murray Bridge people," he said.
"Whether you've given money, support, blood or words, we really appreciate it."
How you can help
Photo: Josh Noye.