Discover more from Murray Bridge News
The number-one news publication in South Australia's Murraylands, read by thousands of locals every week. Subscribe to our weekly email edition for free today.
Over 3,000 subscribers
New agriculture centre at Unity College will equip students for fast-changing industry
Today's ag students will design robots and analyse data during their careers, SARDI's Rhiannon Schilling says.
This story was originally published behind Murray Bridge News' paywall. Paywalled stories are unlocked four weeks after publication. Can't wait that long? Subscribe here.
The Royal Adelaide Show's cancellation has had a silver lining for students at Unity College.
While it was disappointing not to be able to go to Wayville and compete with the best from around South Australia, the Murray Bridge school's decision to run its own event paid off in spades.
Throughout the three days of last week's Unity Agricultural Show, students had access to detailed feedback from judges who would normally have been busy travelling the state.
Competitions were held for merino wethers, beef and dairy cattle and Boer goats.
Dozens of families attended the event's finale on Friday afternoon: a grand parade, followed by the opening of two new agricultural classrooms.
Also there was Rhiannon Schilling, pictured second from the left below, leader of the SA Research and Development Institute's agronomy program and a Unity graduate.
It was her passion for agricultural science that had prompted the college to offer the subject at a year 12 level for the first time in 2006, she said.
She credited her supportive teachers with her successes since: piloting drones over field trial sites, analysing crop growth rates using aerial imagery, leading a national project which used machine learning to analyse yield variability across paddocks, and heading a team of 40 agronomists.
"Technology is changing agriculture, and it's certainly an exciting time," she told today's senior school students.
"We need agricultural engineers who can develop new robots for our farms, design new machinery and develop new autonomous tractors; we need people who like working with computers or numbers to develop software, analyse large data sets and develop new tools for agriculture; we need people with an interest in chemistry or physics to apply this to soil science and understand things like water hydraulics in a paddock; we need people who are interested in business and accounting to focus on agribusiness and support growers who run some of the largest businesses in Australia.
"Make sure you think about your career and the impact you want to have on the world around you."
She thanked everyone who had helped her to get to where she was today, including one of the college's founding fathers, Alan Packer, who was also present.
Mr Packer's voice wavered as he reflected on how far the college's ag program, and the Murraylands' reputation as a food bowl, had come over the past 40 years.
"When we first started off with agriculture I think we only had four steers," he said.
"I hope there are many students who enjoy learning in this building, go on to further studies and then forge a career in the industry."
That industry's future was bright, state MP Adrian Pederick said.
Thomas Foods was starting construction on its new meat works, Big River Pork was now processing 20,000 pigs every week, and those businesses and others would need a steady supply of workers with agricultural knowledge.
"Up-to-date facilities like these will help our students keep pace with change and learn the skills that are needed, whether students stay on the family farm, go on to further tertiary education or find other work in the sector," Mr Pederick said.
"I'd like to congratulate the school and the students."
As well as the new classrooms, Unity has built new raceways, fencing, feeders, garden beds and a show ring over the past two years, agriculture head Jaylene Phillips said.
A livestock shelter, shade house and junior school garden upgrades were on the way.
She thanked the families, staff members, donors and funding providers who had contributed to the developments, and to the success of the ag program and the stand-in show.
"Our agricultural team has gone above and beyond for our students, especially in the year that we're in," she said.
"We knew how important the show program was to our students, so that's why we put on our own show – and what a success."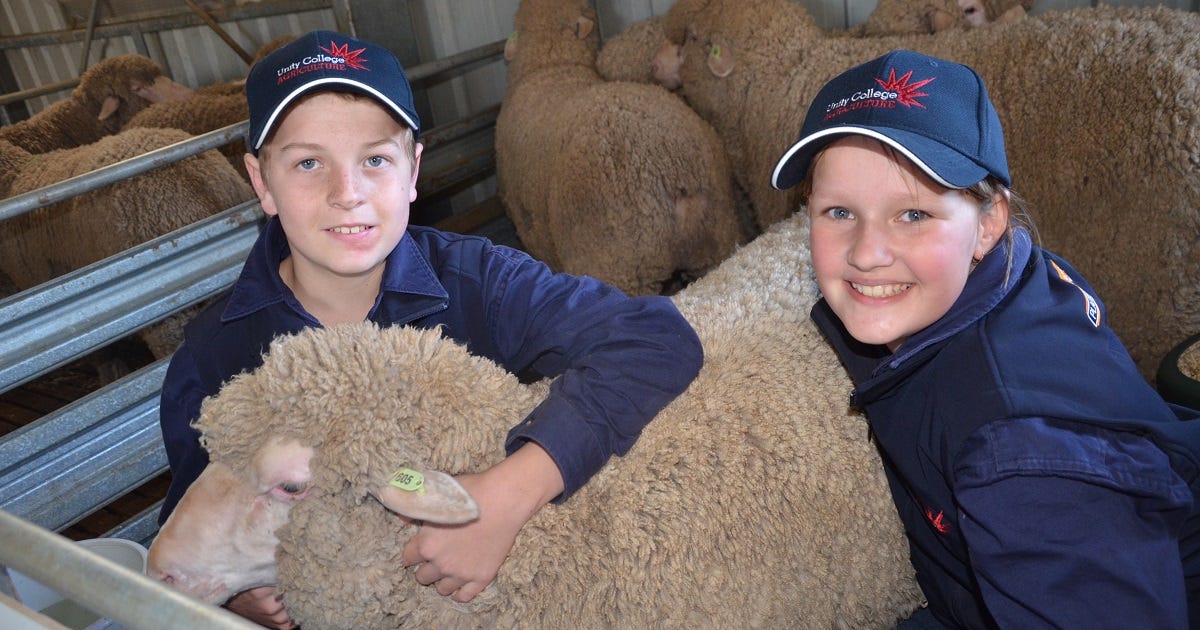 Photos of year 7 students Holly Elliott, Annabelle Starr and Elin Fischer (top); Jaylene Phillips, Rhiannon Schilling, Alan Packer and Adrian Pederick (second from top); year 11 student Sarah Frahn (third from top); and students Spencer Hincks and Georgia Rich (bottom): Peri Strathearn.