Discover more from Murray Bridge News
The number-one news publication in South Australia's Murraylands, read by thousands of locals every week. Subscribe to our weekly email edition for free today.
Over 4,000 subscribers
Mypolonga celebrates 2022 ag town of the year win
Almost 100 people have gathered to celebrate the agricultural community after its award was overtaken by the summer's floods.
Locals support locals – that's why this recent post is now free to read. Your support can help Murray Bridge News tell important local stories. Subscribe today.
They're a resilient bunch at Mypo – and that's just one reason locals can be proud to live in South Australia's best farming community.
About 100 residents have gathered at the local sporting club to celebrate Mypolonga being named SA's agricultural town of the year.
The award was announced in early November, but there wasn't much of an appetite for celebration at the time – the River Murray floods broke through the levee surrounding the township just seven weeks later.
Things are still pretty dire for the farmers who are waiting for the floodplains to dry out.
But Sunday afternoon, at least, was a time to be thankful for a community and its people.
State Primary Industries and Regional Development Minister Claire Scriven said Mypolonga had ticked all the boxes for the award's judges.
Young farmers were moving into the area, the local economy was diversifying away from traditional staples like citrus and apricots, the next generation of agricultural leaders were being trained at the primary school, and even the community-owned sporting club was kicking goals.
"Throughout the ag town judging process, the community spirit and innovative thinking of your town was extremely evident, and so was the pride and the passion, the dedication and the commitment to making Mypolonga a great place to work and to live," she said.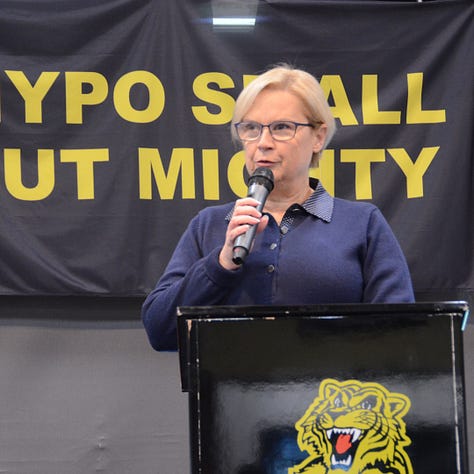 ABC Country Hour host Cassie Hough sang the praises of the "small town with a big food bowl", as did a succession of civic leaders and producers.
"You can get anything here and I love doing business here," Murray Bridge greengrocer Carlo DeMichele boasted.
A gaggle of older locals shared their memories of the community, too.
Jenni Llewellyn and Brian Prosser recalled the days when a 20-acre block of fruit trees produced enough income to support a family and several workers besides, when trucks left the Co-op daily for Adelaide and cities around Australia; and further back, when milk cans were loaded onto barges and shipped down the river to Murray Bridge.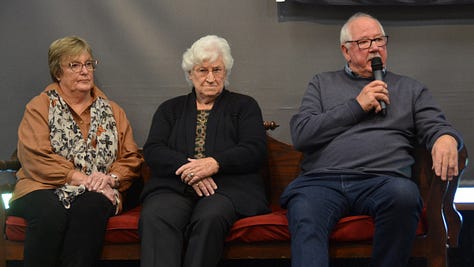 Don Llewellyn remembered 1956, when his family spent several months living in the old footy club shed after their home was flooded.
Ominously, Mr Prosser described a spike in salinity which had followed those floods, killing many stone fruit trees and defoliating most citrus trees.
Steve Rathjen spoke about the history of Rivapak, which now produces almost 10 per cent of Australia's onions locally and employs more than 80 people.
A trio of business owners were asked what Mypolonga would look like in another five years.
Mr DeMichele predicted its population would continue to grow, with more families moving onto blocks that were being subdivided by retiring farmers.
Apricot grower Kathy Prosser expected more tourism, too, as city folks took the opportunity to learn about where their food and fibre came from.
But broadacre farmer Mark Pahl hoped the district would stay true to its farming roots: "I want to see a more profitable and stronger agricultural community".
Whatever the future may hold, it'll be built on a firm foundation at small but mighty Mypo.
Entries open for 2023 ag town awards
Meanwhile, entries are now open in the 2023 agricultural town of the year competition.
Members of the public can nominate any town across country South Australia between now and June 5.
Mypolonga was nominated in both 2020 and 2021 before pulling out the win last year.