Discover more from Murray Bridge News
The number-one news publication in South Australia's Murraylands, read by thousands of locals every week. Subscribe to our weekly email edition for free today.
Over 4,000 subscribers
Murray Bridge Youth Art Prize winners revealed for 2022
The Murraylands' best young artists have shared $4500 worth of prizes this year. Here's who got what.
This post was originally published behind Murray Bridge News' paywall. Paywalled posts are unlocked four weeks after publication. Can't wait that long? Subscribe here.
Some of the Murraylands' best young artists have been recognised at Murray Bridge Regional Gallery's 2022 Youth Art Prize.
Mannum's Jorja Male took out the overall prize, worth $1000, for Psychedelic Journey, a colourful and intricate work.
Judge Bernadette Klavins described it as a complex and creative composition whose shapes, colours and patterns drew viewers in to take a closer look.
"There was a really great amount of care taken in creating the piece," she said.
"It worked so strongly … from across the room and from really close up.
"Managing a complex composition like that isn't easy."
Prize-winners in each of the four age categories included:
21-25 years old: 1st Abbey Morrison, In progress; 2nd Riley Barton, Macular oedema; 3rd Ruby Eckermann, Sphere of influence

18-20 years old: 1st Bella Gazard, Mixed media drawing; 2nd Kayne Moffat, Encounter Bay; 3rd Sienna Montgomery-Pittaway, Behind their eyes

15-17 years old: 1st Luke Henry, Blissful; 2nd Alexandra Borgo, In perfect harmony; 3rd Tyler Dunt, Coolamon

12-14 years old: 1st Keelie Baker, Drifting mind; 2nd Mia Reichstein, DIY custom furred dino mask costume head; 3rd Caleb Deer, The traveller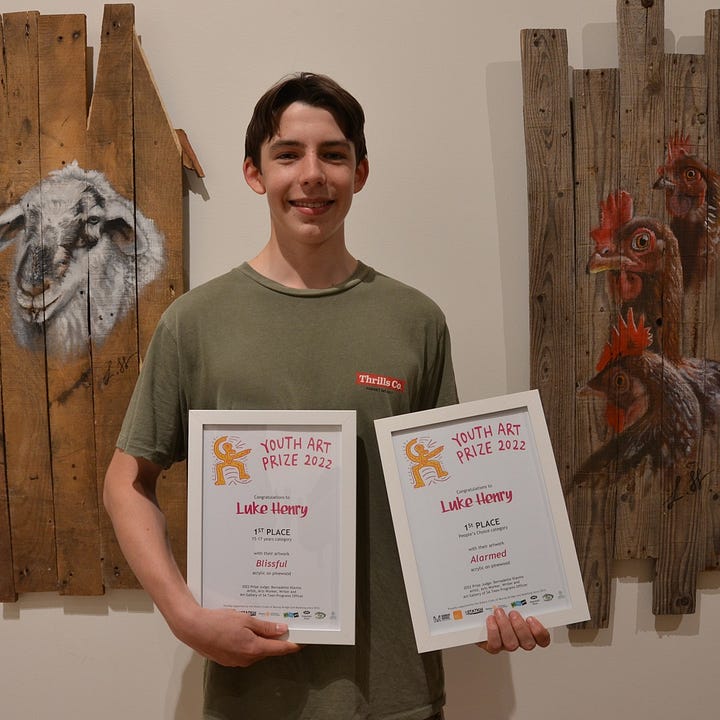 Luke Henry was also the much-anticipated winner of a people's choice award for Alarmed, the other animal portrait he had painted on an old pallet.
Alexandra Borgo's In perfect harmony was the runner-up, while Hayley Hunt's Graceful grey placed third after 721 votes were counted.
The winner of a special prize for a compassionate depiction of an animal, presented by Murraylands Animal Welfare Watch, was Sophie Burbidge for her drawing Fighting fish.
Director Fulvia Mantelli said the youth art prize was one of Murray Bridge Regional Gallery's most important annual programs.
"Every year I'm floored, not just by the number of entrants but by the quality of the entries, by how open young people are, and direct, are about putting into an art form their thoughts about some pretty personal issues," she said.
"I hope that the youth art prize does work as a platform … for (young) voices because we want to amplify those voices, thoughts and perspectives on the world, now more than ever."
The category winners and place-getters shared in $3500 worth of cash, vouchers and art supplies.