Discover more from Murray Bridge News
The number-one news publication in South Australia's Murraylands, read by thousands of locals every week. Subscribe to our weekly email edition for free today.
Over 4,000 subscribers
Motorcycle club helps support group find new home
Murray Bridge's Longriders have backed Silent Ripples' move to Mystical Flair.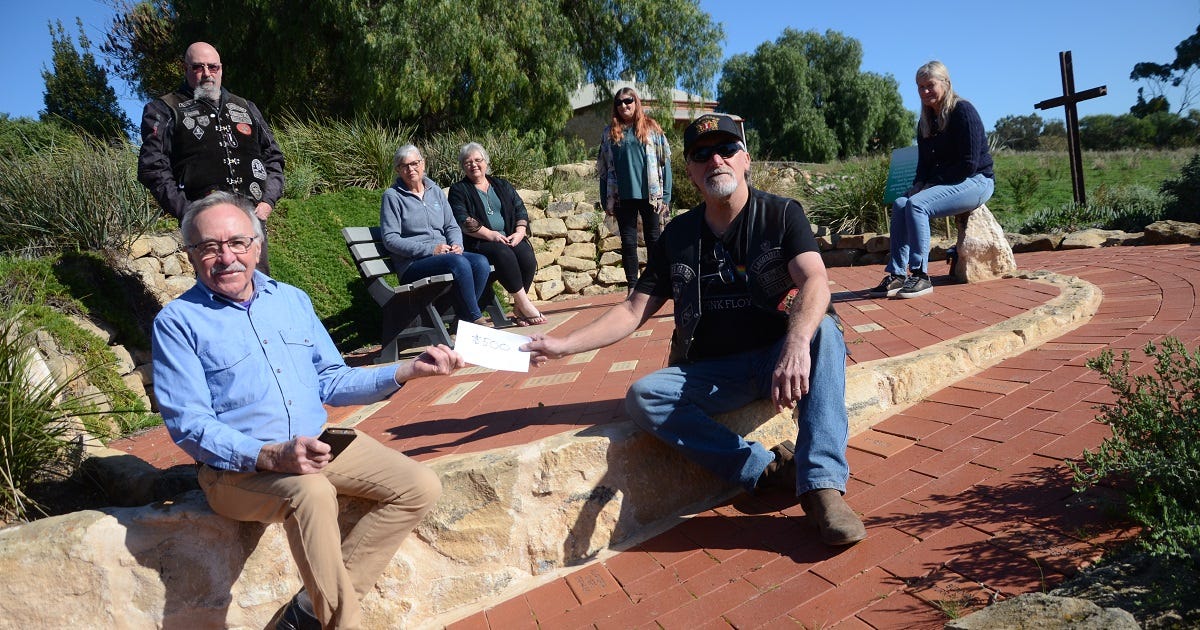 At a time when restrictions are keeping so many of us apart, coming together to talk about mental health and wellbeing has never been more important.
So the establishment of a new home for Silent Ripples – a support group for people who have lost loved ones to suicide – is an important step.
The group will meet at 6pm on the second and fourth Wednesday of each month at Mystical Flair, the clothing and coffee shop at 56 Bridge Street, Murray Bridge.
Meetings will still be restricted to 10 people for now, in accordance with COVID-19 limitations, but in time the group's members hope to reach as many people as need their help.
For an organisation which had functioned on a shoestring budget for the past 10 years, it was a big step, said spokesman Trevor Smith, pictured on the left.
"Without our local supporters, we wouldn't be here," he said.
The move came about thanks not only to the shop's owners, but to the Longriders Christian Motorcycle Club, who donated $500 for the purpose.
The groups have traditionally collaborated on a memorial run from the Murraylands to the Royal Adelaide Show each year.
Longriders' Gus Slotegraaf, pictured on the right, said it was an honour and a privilege to help, as it sat well with the club's mission.
"As a club, we try to be with the male motorcycle community," he said.

"There's more to Longriders than jumping on a motorbike and going somewhere; we try to be with people through their issues.

"Men are reluctant to talk.

"As a club, we create a safe environment so people feel comfortable enough to start talking – that's all some guys need."
Life was a long journey, he said, and the Longriders might only be "between two mile-posts"; but they were able to help most of the people who walked through their doors.
"The thing we look at is that people are better when they leave than when they arrive," he said.
Photo: Peri Strathearn.