Discover more from Murray Bridge News
The number-one news publication in South Australia's Murraylands, read by thousands of locals every week. Subscribe to our weekly email edition for free today.
Over 4,000 subscribers
Luxurious lifestyle awaits in the Murraylands
The market for properties along the River Murray is evolving towards high-end, executive homes, as Raine and Horne's Michael Cox and Casey DeMichele explain.
This sponsored post is brought to you by Raine and Horne Murraylands.
More and more city residents are realising the benefits of a laid-back River Murray lifestyle – and their choices are driving an evolution in the region's property market.
Where once the Murraylands was known only for ski shacks and affordable housing, opportunities are now becoming available to live more luxuriously.
Several high-end properties currently on the market illustrate the trend, and none more than the elite executive dwelling at 62 Kittelty Road, Woodlane.
Set on 30 acres with magnificent river views, it features four bedrooms, three bathrooms, solar and rainwater, and gorgeous character throughout.
But what will really wow you are the indoor lap pool and spa, full-size tennis court, netted cricket pitch and – most impressive of all – an indoor basketball stadium and dunk pit.
Raine and Horne Murraylands is marketing the property at a price guide of $3.5 million.
If that's a little outside your budget, perhaps you'd consider something in the million-dollar range.
A grand country home at 23 Cromwell Road, Mypolonga offers quality, style and space for the whole family on eight acres for just a touch over $1 million.
Or, for the ultimate four-bedroom home with incredible views of the River Murray, a manicured garden and abundant living areas, you might consider 91 Clifftop Drive, Sunnyside.
Senior property consultant Michael Cox said such high-end homes exemplified a growing trend towards luxury properties in the Murraylands.
These properties typically featured a higher build quality, stylish decor and perfectly presented gardens.
However, they still represented genuine value – after all, property prices in the long-overlooked region had shown strong growth in recent years.
"You get a lot of homes on large properties; but these have a unique floor plan and unique style, in everything from their kitchens to their light fittings and floor coverings," he said.
"It's not a matter of getting a standard-spec home and chucking it on a big block."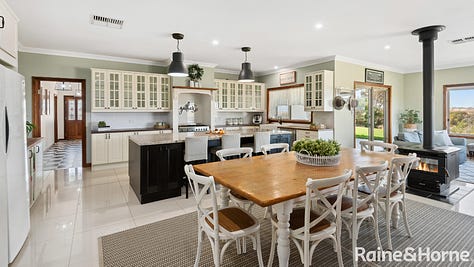 Sales consultant Casey DeMichele agreed that discerning buyers' investments could go further locally than in regions such as the Adelaide Hills.
"What you can get here in the Murraylands versus what you can get there, there's a huge difference," she said.
There was much more to the region that just Murray Bridge, too.
For anyone using realestate.com.au, she suggested searching for properties in "Murray Bridge – Rural City, SA" rather than just "Murray Bridge, SA 5253" – that way all properties in surrounding locations will appear in your search.
Whether you've got an executive home or luxury getaway to sell, or have been dreaming of acquiring one, now looks like a good time to realise your ambitions.
More information
The team at Raine and Horne Murraylands are here to help you with advice on any real estate matter.
Visit www.raineandhorne.com.au/murraylands, call 8532 3833 or drop into the office at 4 Seventh Street, Murray Bridge.
---
Interested in advertising with Murray Bridge News? We can help you reach thousands of highly engaged locals. Call Jane Intini on 0418 835 768 or email jane@murraybridge.news.