Discover more from Murray Bridge News
The number-one news publication in South Australia's Murraylands, read by thousands of locals every week. Subscribe to our weekly email edition for free today.
Over 4,000 subscribers
Locals reminisce about Tailem Bend's railway history
The coming sale of six carriages in the rail yards at Tailem has prompted a lot of nostalgia for the town's heyday.
Locals support locals – that's why this recent post is now free to read. Your support can help Murray Bridge News tell important local stories. Subscribe today.
A regional centre for rail maintenance and repairs, Tailem Bend was once a well-known destination for both passengers and freight transfers alike.
Rumours suggest that the town had what some would call an extremely robust railway lifestyle – and to this day Tailem Bend really does know how to put on a party.
A recent Coorong council decision to sell six carriages lying in the town's rail yards – two tool vans, a caboose, a match wagon, a centenary display wagon, a green VLX van and a wooden sleeper van – has jogged people's memories about the town's heyday.
With curiosity building from rail enthusiasts to historians and serious collectors, Bronte Rowe, of Tailem Bend, reminisced about the good times.
"Many had a lot of fun in Tailem's heydays, some really played hard, but all of us worked hard, both at work and building our community," Mr Rowe said.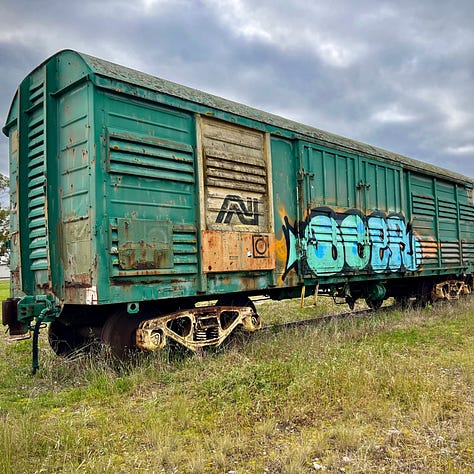 The sleeper van was once used by Australian National Railways Commission painters, plumbers and carpenters for overnight accommodation.
Peter Green, of Tailem Bend, suggested on social media that this would make a great coffee shop, if it were refurbished and located next to the town's historic main street railway station.
An accident train would normally consist of at least one tool van, a caboose, a match wagon and a 60-ton or 120-ton rail crane.
Locals support locals. Your support helps Murray Bridge News tell important local stories.
"We nearly had a complete accident train in Tailem, but I recall the rail crane ended up in Strathalbyn," Mr Rowe said.
"Our old Caboose had some German re-railing equipment, some water-operated 50- to 20-ton jacks with the necessary motor to run them – that's all in the Information Station museum now.
"We had to be completely self-sufficient when we were out in the scrub, so the caboose had a shower, dining room and a neat little kitchen; it was stocked with plenty of canned food and always was kitted out with a good supply of first aid equipment.
"The match wagon had an air-operated crane of its own and was always filled with a variety of two-, four- and six-foot wooden chocks for stabilising rail cranes' outriggers."
With tool vans full of slings, shackles and tools and the match wagon full of chocks for stabilising, jacking, and slewing – moving obstacles from side to side – ANR recovery teams were well known for their creative solutions to opening the lines to rail transport in record times. 
"We often needed a few extra empty flat trucks at an accident, and even a few bogies (a chassis or framework carrying wheels, attached to a vehicle) and plenty of food and fuel as we were often out for days on end," Mr Rowe said.
The accident train was called upon for a number of serious incidents over the years.
Records show that on February 14, 1945, a Coomandook fireman and guard were injured when a troop train collided head-on with a goods train and on July 3, 1962, a goods train travelling from Melbourne to Adelaide was derailed at Tintinara; fortunately no-one was injured.
On March 10, 1975, 32 people were injured at Monteith when the Overland Express derailed and at Balyarta – west of the Kanmantoo copper mine – on July 22, 1977, an overnight Adelaide-Melbourne express goods train was derailed.
On December 17, 1980, a Renmark goods train was derailed and on October 8, 2010, a Keith freight train travelling from Melbourne to Perth reported having derailed between Wirrega and Keith.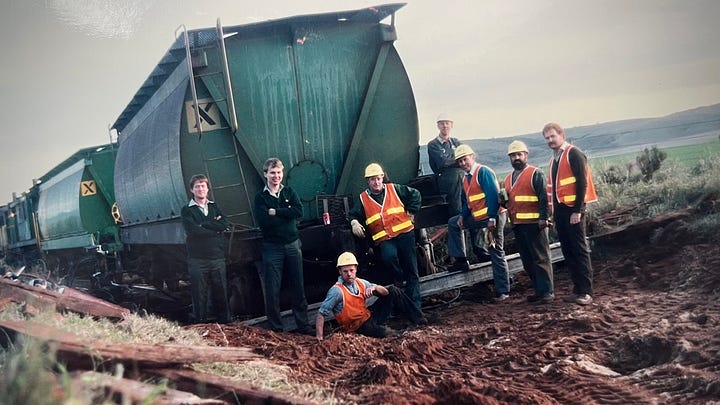 Mr Rowe said there had been a number of derailments in the district over the years – sometimes up to three in a week, and some of them "huge".
"They were interesting and challenging days," he said.
Workers at Tailem Bend responded to incidents everywhere from Eden Hills to Wolseley and the Riverland.
"One incident is still fresh in my mind: the Overland, full of sleeping passengers, was sailing towards Keith at about 110 kilometres per hour when a guard smelled something – he said it smelled like a hot, burning smell," he said.
"Stopping the train, they found a smoking red-hot bearing.
"So it wasn't long, and our gang was on the spot inspecting what is, to this day, the fiercest hot box I've ever seen – I told them that they weren't going anywhere.
"The bearing was that hot, you could see the axle turning around through the steel cover – it was like glass.
Locals support locals. Your support helps Murray Bridge News tell important local stories.
"I scratched my head for a while - we had the Overland full of passengers, blocking the line, stuck in the middle of the scrub.
"I gave them the bad news: 'we have to walk the train into Keith, yes, at walking pace'.
"So I walked alongside the Overland, to everyone's disgust, for about four to five very slow kilometres and as we turned into the Keith yard, finally onto another track, the big axle just sheared off in the box.
"Thankfully we had made the right call, stopping what would have been a catastrophe – with all those passengers on board, they would have ended up in the middle of the Princes Highway."
Elements of local railway history are preserved at the Tailem Bend Information Station, found on the town's main street since 2005, which boasts a substantial museum along with a comprehensive visitor information centre.
Carriages' coming sale prompts mixed reactions
Several community members have since said they would like the carriages brought back to their former glory and kept at Tailem Bend somewhere.
Barbara Power, of Tailem Bend, said that she thought the centenary display wagon would make a wonderful permanent stage fixture at the western end of the Willow Street precinct for events like the Christmas Parade and street parties.
Donna Middleton, of Tailem Bend, would like to see a state-financed upgrade to Tailem Bend's historic roundhouse, something like Peterborough's Steamtown Heritage Rail Centre.
Rodney Green, of Wellington, was a little disappointed that more of the town's railway heritage may be leaving.
Peter Squires, of Old Tailem Town, said he would be happy to see the carriages being used to help tourism somewhere – hopefully at Tailem Bend.
Steve Moritz, of Murray Bridge, expressed his disappointment on social media about the proposed sale of surplus carriages, saying that he felt there had been very little forward thinking by councils, past and present, for the preservation of Tailem Bend's railway history.
"If it wasn't for local community members putting in what they have, there would be nothing left," he said.
A final decision about the future of the carriages will be made by the council in the second half of 2023.
---
Disclosure: Barbara Power is the author's wife.