Discover more from Murray Bridge News
The number-one news publication in South Australia's Murraylands, read by thousands of locals every week. Subscribe to our weekly email edition for free today.
Over 4,000 subscribers
Kevin Kropinyeri stresses forgiveness at Mental Health and Wellbeing Expo
The comedian, the keynote speaker at this year's expo in Murray Bridge, has spoken about the mental health benefits of forgiveness and love.
Locals support locals – that's why this recent post is now free to read. Your support can help Murray Bridge News tell important local stories. Subscribe today.
Kevin Kropinyeri, an internationally successful comedian and visual artist, has spoken at the Murray Bridge Mental Health and Wellbeing Expo about the transformative power of forgiveness.
The annual expo is a free event designed to show people in the Murray Bridge region the mental health supports available to them.
Through relating some of his own dramatic life story, Mr Kropinyeri, a Ngarrindjeri and Narungga man, shared how practising forgiveness changed his life.
He grew up with a violent father, but at the age of 30 in a prison cell in Dubbo, New South Wales, he decided to forgive his father for his "harshness and cruelty".
"I was a very, very violent man, and I spent a lot of time being locked up," Mr Kropinyeri said.
His former anger stemmed from not only how his father treated him and his mother – waking him up in the night to give him cold showers, giving his mother black eyes – but also how he was mistreated in Murray Bridge.
"I grew up in Murray Bridge, one of the most racist towns," he said.
Even one of his school teachers told him he would just end up in a park "like other Aboriginal people".
Locals support locals. Your support helps Murray Bridge News tell important local stories.
He tried to deal with such racism though violence, but the physical violence couldn't stop the psychological trauma from ongoing rejection and mistreatment.
"All that stuff would always role play on my mind and mental health – I was a womaniser and violent, and all the behaviour came from somewhere," he said.
For example, Mr Kropinyeri said a white girl at his high school had fancied him when he was 15, and invited him to her house.
When the girl's parents found out about their daughter's crush, they told him to leave, saying, "We don't want no half-caste babies in this family".
As a result of this hurt, Mr Kropinyeri vowed not to date another white woman, a vow he stuck to up until a couple of years ago, when he met his current partner.
"Your words affect people – your words shape and mold people," he advised.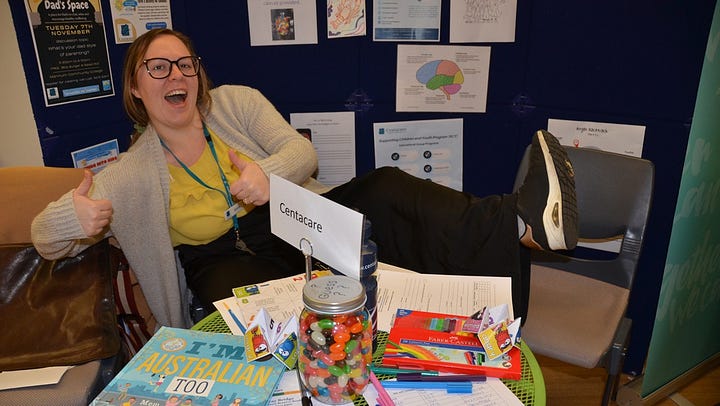 Luckily, Mr Kropinyeri had an encouraging art teacher at high school who encouraged his talent in drawing and said he should paint.
Mr Kropinyeri followed her advice and eventually turned his painting into a lucrative –very lucrative – earner.
"I was making six figures from my art, and I was a full-time artist when I came back to Murray Bridge," he said.
Other supportive people in his life were his aunties and uncles, who he acknowledged in his speech in a voice wracked with emotion.
"Learn to accept things you can't change," Clyde Rigney said to him - very good advice.
"When you walk in love, you walk in power," an aunty Beryl said - "she was always talking cryptic".
But the cryptic words eventually made perfect sense to Mr Kropinyeri, particularly in regard to racism.
"When I grew up here, racism was in your face – now it's under the table," he said.
"When you're patient to a redneck racist, you walk in peace.
"When you love someone, you'll change people."
Mr Kropineri even changed his father's behaviour through love and forgiveness.
After forgiving his critically ill father in hospital, the old man became a beloved grandfather where he had had many shortcoming as a father.
"When I forgive, it sets me free," Mr Kropinyeri said.
In a nod to the recent referendum on an Indigenous Voice to Parliament, Mr Kropinyeri suggested Australia lacked empathy towards Indigenous people.
"Have more empathy … we are unloved in our own country," he said.
"And learn to laugh with us, because us blackfellas are very funny."
Other activities and services at the expo
Apart from the keynote speaker at the Mental Health and Wellbeing Expo, Hannah Arnold also spoke.
Managing director of Genuine Support Services Gabby McKenzie opened the expo and acted as MC, with Harley Hall doing the official welcome to country and Murray Bridge mayor Wayne Thorley welcoming attendees.
The expo also provided freebies, such as barista-made coffee, lunch and a massage.
Mental health service providers at the event included representatives from the Australian Migrant Resource Centre, Centacare, Relationships Australia, Mission Australia, AC Care, Communities for Children, Headspace, Silent Ripples, Planet Youth, Neami Intervention, Skylight, Carers SA and more.