Discover more from Murray Bridge News
The number-one news publication in South Australia's Murraylands, read by thousands of locals every week. Subscribe to our weekly email edition for free today.
Over 4,000 subscribers
Historic kitchen caught a photographer's eye – and won her a Rotary Art Show prize
Stephanie Evans has been named among the prize-winners at the 2023 Murray Bridge Rotary Art Show.
Locals support locals – that's why this recent post is now free to read. Your support can help Murray Bridge News tell important local stories. Subscribe today.
As soon as Stephanie Evans saw the dimly lit kitchen at Old Tailem Town, she was transported back in time.
She spent years of her life on a farm at Mercunda, and grew up in a homestead much like the one she had stumbled across.
So, feeling a sense of nostalgia for her childhood, she snapped a photo on her smartphone.
Turn the clock forward to Sunday, and Evans' photo was named the winner of the Andrew Hay Memorial Photography Prize at Murray Bridge Regional Gallery.
Judge Debbie Pryor heaped praise on Mum's country kitchen and the "dark, slow emotion" of the room it depicted.
"This piece holds so much within it," she said.
"I felt many lives, conversations, all took part in this room."
The photography prize was one of several handed out at an afternoon opening event for the annual Murray Bridge Rotary Art Show.
Sarah Roberts won the inaugural Jean Sims Prize for her acrylic painting Beauty in Bloom, ahead of placegetters Lynette Anstey and Brenda Holden.
Also recognised were:
Ceramicist Rosemary Walker, for the best 3D work, ahead of placegetters Jenny Georgi and Belinda Martin

Painter Kim Plachy, for the best compassionate depiction of an animal

Photography placegetters Daniel Cazzolato and Cecily Graetz
A people's choice award will be presented when the exhibition closes on April 23.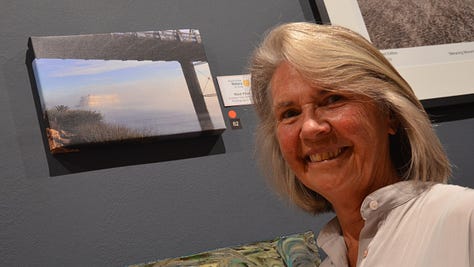 Director Fulvia Mantelli and her team managed to squeeze an astonishing 226 works into the gallery for this year's show.
Four more works had to be excluded due to the shortage of space.
Perhaps organisers would have to limit the number of entries in future, Mobilong Rotary Club president Bob England suggested – but that decision would come later.
For now, Ms Mantelli congratulated all the artists who had submitted their work.
"It's a really brave thing to put your work out into the public arena," she said.
"It's also an incredibly generous thing to do, and one of your most vulnerable times.
"I ask anyone who isn't an artist to give that a little bit of thought when you walk into a gallery."