Discover more from Murray Bridge News
The number-one news publication in South Australia's Murraylands, read by thousands of locals every week. Subscribe to our weekly email edition for free today.
Over 4,000 subscribers
Free food given to struggling families again – and you can register for next time
At least one more grocery giveaway is planned at Murray Bridge Community Centre.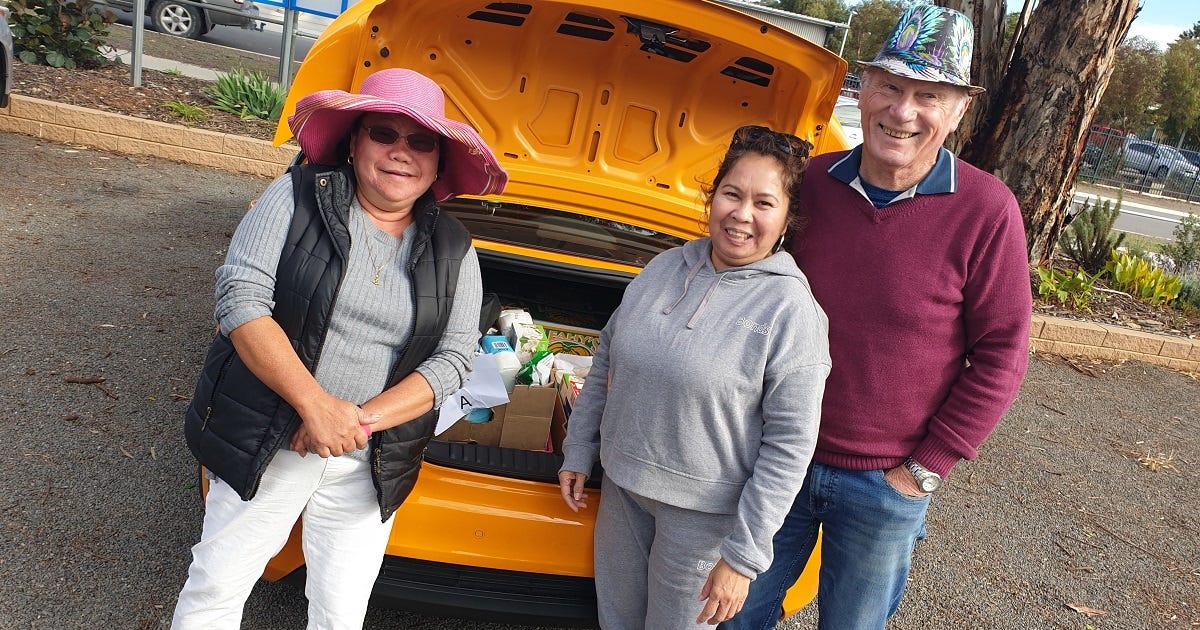 More free food will be made available to Murray Bridge families doing it tough during the coronavirus pandemic.
A one-off hamper giveaway at the community centre on Beatty Terrace a fortnight ago, to families already registered with local charitable organisations, was repeated on Tuesday morning – and not for the last time.
In this case, another 50 boxes of food were handed out thanks to the Murray Bridge council, supermarket Drakes, greengrocer Farm Fresh Market, pork producer Sunpork Farms and a private donor who brought dozens of eggs along.
Among the grateful recipients were Lydia Pinter, Rachel Carriedo and Bruce Pfeiffer, pictured.
"It is a big help," Ms Pinter said.
"It will help us get through."
Council volunteer coordinator Ngareta Cronin said a previous story by Murray Bridge News had led to many enquiries from families in need.
"We're now looking at doing it again in future," she said.
"People doing it tough can register with Murray Bridge Community Centre."
To be eligible, families must have suffered a loss of or reduced income as a result of the coronavirus pandemic.
A limited number of hampers will be available.
However, there are no plans for the giveaway to become a regular fixture at this stage.
Foodbank is likely to fill that gap when it opens a food hub in Murray Bridge later this year.
In the meantime, as well as the hamper giveaways, the community centre also maintains a bread cart for people who might otherwise struggle to afford a loaf.
Register for the next hamper giveaway: Call 8531 1799, email mbccireception@internode.on.net or visit Murray Bridge Community Centre between 10am and 2pm Monday to Thursday.
Photo: Peri Strathearn. Disclosure: Despite his protests, the reporter was also given a box of groceries, which he will share with friends and neighbours.