Discover more from Murray Bridge News
The number-one news publication in South Australia's Murraylands, read by thousands of locals every week. Subscribe to our weekly email edition for free today.
Over 3,000 subscribers
Domestic violence is everywhere – be aware, writes Unity College student
OPINION: Luca Calgaro imagines an encounter with a family dealing with domestic violence.
This fictional post was contributed by Unity College student Luca Calgaro.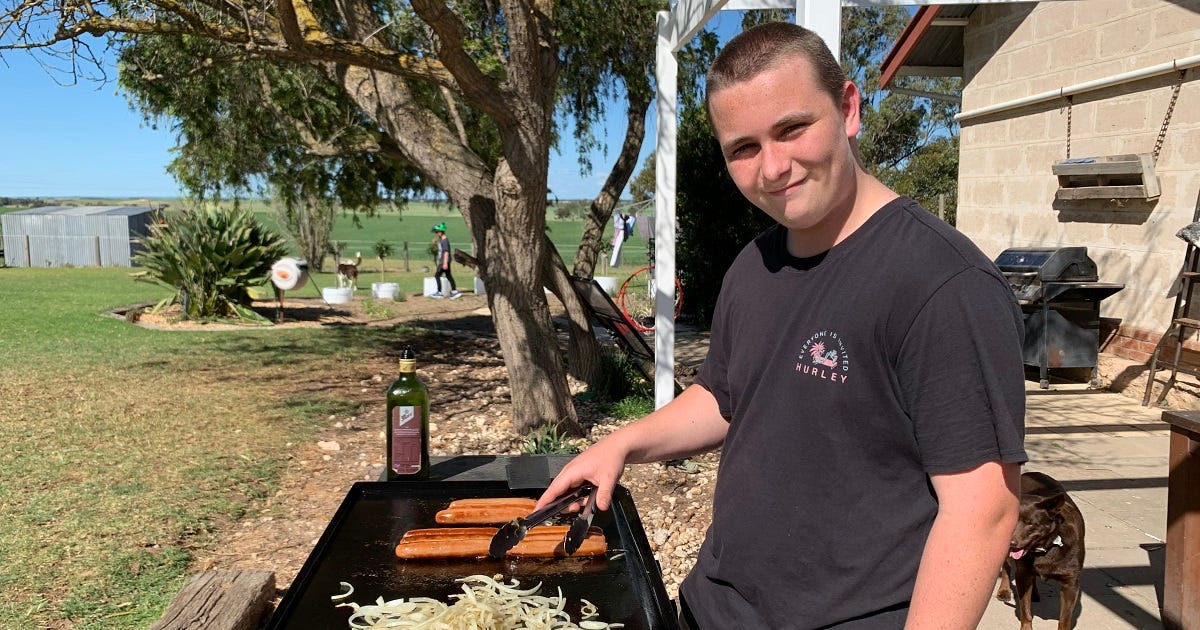 A normal family, in a normal town, on a normal day, at the footy.
It's cold and rainy and I'm helping out with the barbecue.
I've been on the barbecue most weeks at footy now and I'm starting to really understand and get to know the locals.
You'd never expect something out of the ordinary around here, in this quiet little town.
As the day rolls on you see many people come through to get an egg 'n' bacon sandwich.
Every now and then you get the odd couple of people that stick out to you, but you can't quite put your finger on why. 
A kid came up to the counter who looked to be about 10 whilst I was watching the A-grade and was looking to buy an egg 'n' bacon, and whilst I cooked the bacon I tried to make small talk with the young chap.
He was very spaced out and wasn't really concentrating on any one particular thing, and when he did decide to talk it became obvious that his social skills were not of average level for his age.
I asked him what he and his family had planned for the weekend and if they were going out or having a relaxing weekend at home.
He went all colourful in the cheeks and glanced over to who I assumed were his parents, who were arguing about something.
He seemed nervous to answer and obviously embarrassed by commotion his parents were causing.
The sandwich was done, and I decided not to press him on the issue.
I watched as he awkwardly thanked me for the sandwich and left to a group of boys I can only assume were his mates.
I later noticed, out the corner of my eye, that same kid just go ballistic on a fellow player; I didn't get the reason as to why but after his little outburst, I could easily see the amount of remorse on his face.
He ran off behind the clubrooms, which was right past me, and he cried.
I could hear him cursing and hitting something to release all of his anger into and I didn't want to intervene as it was obvious he was going through something.
Over the next couple weeks I'd see him around, isolating himself from other players and being aggressive to people who did interact with him; it was odd, but I didn't really think much of it.
Later, in some research I was conducting, I realised that this child may have been going through a domestically violent situation at home, considering he was expressing the symptoms that children are likely to express when experiencing family violence.
These symptoms include violent outbursts and aggressiveness, being embarrassed about subjects relating to their family, poor concentration and poor social skills.
Over the next couple of weeks I started seeing less and less of the female partner and the child was still disobedient and aggressive.
The father came up to me to get a B 'n' E and so whilst I was making it I asked to break the ice, "how's your wife? I haven't seen her around lately".
I could see the anger in his eyes flash from the mention of her.
"She's shopping," he finally answered after a time.
The unease in the air was too much for me to quite handle so I remained silent while I waited for the bacon to cook. 
Later, when I dove into more research, I learned that isolation was a symptom of domestic violence.
So I asked around the club; the friends of the mother reported that they hadn't seen or heard from her for weeks.
Some abusers build up the violence over an amount of time; it may start off with little insults, then manipulation, and gradually to physical violence and manipulating you into thinking it was your fault.
Isolating your partner from their friends and family and people that they care about and feeling the need to control everything are some more symptoms, and isolation seemed to be one in this scenario.
A normal family, in a normal town, on a normal day.
Domestic violence is everywhere and, to your surprise, can be happening to your friends and family right now.
The truth is, this isn't a normal family, in a normal town, on a normal day.
Although they might seem normal in public, things can change drastically behind closed doors.
The most important things we can all do as a community and as a whole are to be aware, be observant and provide support.
Whilst it's good to have special days where the sole purpose is focusing on one topic, it's even better, and – dare I say – more important to always be aware and observant all year round.
So when you're in the shops, at the park, on the bus, or anywhere out in public, be cautious of your surroundings and look out for the signs and symptoms.
In sharing my pamphlets around my footy club I hope to spread awareness and promote positive change around the community.
Get help: In an emergency, 000; for phone and online counselling, 1800 RESPECT (732 732); for suicide prevention and support, Lifeline 13 11 14; for counselling for people aged 5-25 years, Kids Help Line 1800 551 800; for counselling for men, Mensline Australia 1300 789 978; or, if you'd feel more comfortable talking with someone you know, you can turn to them for support. You're not alone. Break free and break the cycle.
Photo: Luca Calgaro.