Discover more from Murray Bridge News
The number-one news publication in South Australia's Murraylands, read by thousands of locals every week. Subscribe to our weekly email edition for free today.
Over 4,000 subscribers
Crowd revs up at River Murray football and netball 2023 season launch
The River Murray Football League and Netball Association's 2023 season has officially begun with a high-octane launch at the Bend Motorsport Park.
Locals support locals – that's why this recent post is now free to read. Your support can help Murray Bridge News tell important local stories. Subscribe today.
The River Murray Football League and River Murray Netball Association have launched their 2023 season at the Bend Motorsport Park.
There have been big changes in the local sporting world since last year's grand finals, of course – this will be the first season for the River Murray's newest footy and netty teams, the Coorong Cats, Mallee Storm and Southern Mallee Suns.
Although the Mallee has lost its local football and netball leagues, there was still excitement about the amalgamated teams, including from Coorong Mayor Paul Simmons.
"From a regional perspective, it enlarges our region to its full potential," he said.
"To me, the (Meningie and BDT) committees led and got on with making a difficult decision.
"Merging is never really easy, so I'm proud of my community and the River Murray league for taking the next step."
A highlight of the evening was when each football and netball team displayed their colourful uniforms.
Tailem Bend Netball Club secretary Leonne Capes was interested to see how they would look.
"Can't wait to see all the new uniforms," she said.
She also looked forward to the new netball teams playing this season.
"It'll be different with so many teams, but it'll be good," she said.
"With the new teams coming in, we'll get to find out straight away how we'll go, as we play them in the first three games."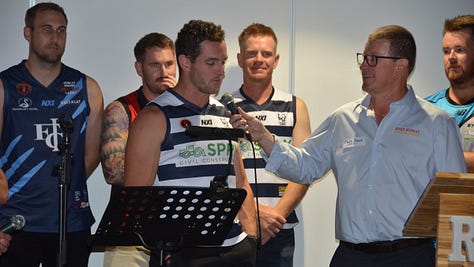 ---
Correction: Three new clubs will join the football and netball competitions this season.
Your support can help Murray Bridge News tell more important local stories – subscribe today.