Discover more from Murray Bridge News
The number-one news publication in South Australia's Murraylands, read by thousands of locals every week. Subscribe to our weekly email edition for free today.
Over 4,000 subscribers
Copper look at this: Callington Hotel prepares to reopen
Exclusive: Callington Hotel owner Steve Marks hopes that after around seven years, regulatory battles and $3 million worth of work, the pub will reopen next month.
Locals support locals – that's why this recent post is now free to read. Your support can help Murray Bridge News tell important local stories. Subscribe today.
In a town with no pub, locals are looking forward to the reopening of the revamped Callington Hotel late next month.
Since Steve Marks bought the hotel in 2016, there have been objections by some and obstacles to its development.
But Mr Marks said the wait would be worthwhile.
"When it's finished, it'll be licensed for 600, so it's a development that's cost over $3 million, and a town like Callington probably needs to be a destination for the hills," he said.
"Callington does get a lot of the pushbikes and cars and motorbikes and that coming down the back way, especially at weekends – the area's grown quite a bit, and the facilities need to grow with it."
"The investment in the town is to bring it up to other towns around the area and the facilities that they've got."
Locals support locals. Your support helps Murray Bridge News tell important local stories.
What will the revamped hotel be like?
Mr Marks described what future patrons of the hotel could expect, and offered Murray Bridge News photos of the interior.
"It'll have a sports bar, dining bistro, and the main bar is probably the same size as the main hotel used to be ... so with that, 50 car parks on site, and the next stage will be 12 motel rooms," he said.
"The hotel in any town has always been the centre of the town, and by incorporating accommodation, that'll be good for the whole area."
Mr Marks said one of the objections to the hotel's redevelopment had been that the hotel wouldn't retain its historic look and feel, so he had made an effort to reuse material from the original building.
"We reclaimed all the timber that we took out of the floors that had a problem with white ants and put them back across the cellar … the jarrah and the oregon are all from local areas like Mannum and also Strathalbyn, and all the trusses have been reclaimed, so it's a very natural feel when you go in there," he said.
"One of the local painters has done an amazing job inside with painting probably about 20 or 30 of the heritage buildings in the town, so that'll be in the hotel forever, and the furniture, which we reclaimed from the old hotel, was revamped by one of the local carpenters … and we've still got a lot of memorabilia that was in the old hotel we'll put back again."
Since Callington has always been a copper town, there'll be a copper theme throughout the hotel, including copper beer fonts which will serve 15 different beers on tap.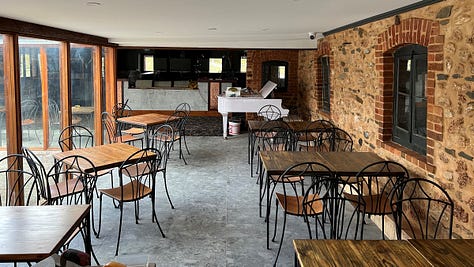 Council approvals, liquor licence not yet secured
Not everyone has been charmed by Mr Marks's plans to revamp the historic hotel.
After Mr Marks bought the Callington Hotel in 2016, the Mount Barker council opposed his plans to redevelop it.
A petition was circulated at one stage.
A council spokesperson told Murray Bridge News that planning staff were working with Mr Marks to make sure the appropriate approvals were obtained.
It would be up to the developer to meet whatever conditions the council set.
Another obstacle was a South Australian Licensing Court ruling, at one stage, that Mr Marks was not a fit and proper person to hold a liquor licence.
Mr Marks described that as "a bit strange", given he had owned six other licensed venues in the past without any issues.
The hotel's liquor and gaming licences both remain suspended at present.
A spokesperson for Consumer and Business Services told Murray Bridge News both licences had been transferred to a new licensee.
Mr Marks said all appropriate licences would be in place by the time the hotel opened.
Finally … what's with the polar bear, anyway?
Recent visitors to the Callington Hotel work in progress may have been shocked to look through a glass door to see a huge polar bear staring back at them – a stare bear, you could say.
Mr Marks explained what this was all about.
"My sister collects polar bears," he said.
"It's actually a life-size polar bear I bought at an auction; someone moved it in front of the window, and we left it there - we call it a 'security bear'".
"I think that it'll probably end up out the beer garden or something for the kids."
A polar bear may be a fitting symbol of a hotel that has polar-ised opinions.