Discover more from Murray Bridge News
The number-one news publication in South Australia's Murraylands, read by thousands of locals every week. Subscribe to our weekly email edition for free today.
Over 3,000 subscribers
Come and try ... swimming with Murray Bridge Swimming Club
Isabella Roberts and Tyler White invite you to come and try swimming in Murray Bridge.
Is your business interested in promoting fitness and wellbeing in the Murraylands? Murray Bridge News is seeking an ongoing sponsor for this regular feature. Call Peri on 0419 827 124 or email murraybridgenews@gmail.com.
In any other year, Isabella Roberts and Tyler White would normally be swimming laps on an evening like this, regardless of the cool weather.
Instead they have been training on dry land: lifting weights, doing steps, building their strength and flexibility for the moment they are allowed back inside the fence at Murray Bridge Swimming Centre.
They hope the training will make them more competitive during the upcoming season, just as the $2.8 million worth of improvements currently being finished off – and due to open on Friday afternoon – will make their pool more modern and comfortable.
When did you first start swimming?
Tyler: I've done swimming lessons for most of my life (but) I only joined the club about three years ago.
Isabella: I started at six months and I've been swimming with the club for five years.
What do you get out of it?
Isabella: I get out of the pool in a better mood – it's kind of my happy place.
Tyler: You get to meet a lot of new people. It's a really friendly group.
What has been the greatest achievement of your swimming careers so far?
Tyler: Going to countries (the SA Country Swimming Championships). It's good to get to meet a heap of different kids from different places.
Isabella: Making it to the states in Adelaide, at Marion.
How are you going at this early stage of the season?
Isabella: We did an interclub (competition) last weekend.
Tyler: We had a big week where we were up in Adelaide swimming for the whole week, too.
Isabella: It was a country clinic. All different clubs came together.
What do you hope to achieve as swimmers?
Tyler: To be the best that I can be.
Isabella: My goal this season is to get a bit more medals, to reach a higher level.
Why should people come and try swimming?
Isabella: I think people should come and give swimming a go because it's kind of a life skill to learn.
Tyler: It's a really good environment to be around, with heaps of nice people around the club, especially heaps of good coaches that are all about you getting better.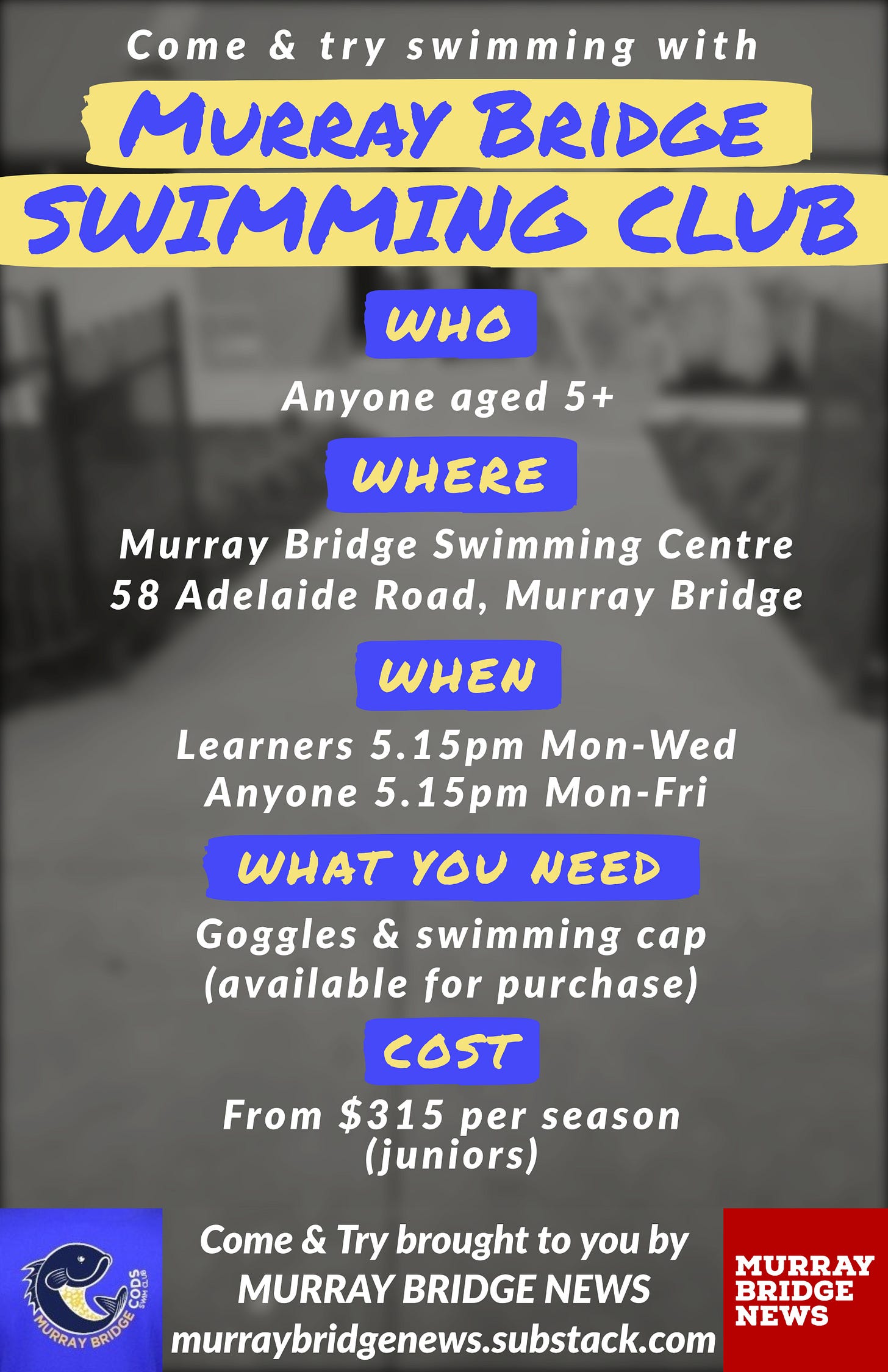 Photo, image: Peri Strathearn.