Discover more from Murray Bridge News
The number-one news publication in South Australia's Murraylands, read by thousands of locals every week. Subscribe to our weekly email edition for free today.
Over 4,000 subscribers
Neil Kaak remembered as well-travelled bus driver who loved surprising his wife
Murray Bridge Auto Collectors Club members have paid a final tribute to one of their own.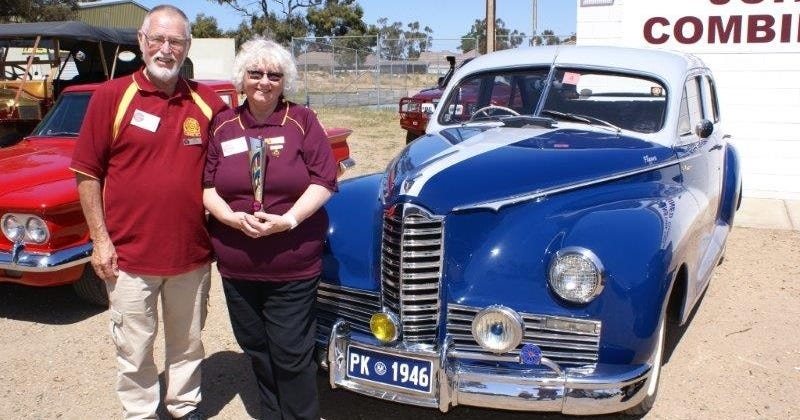 Members of the Auto Collectors Club of Murray Bridge have given one of their own a fitting send-off on the way to his funeral.
The late Neil Kaak, pictured with his widow Ricky, took pride of place in a motorcade made up of cars from throughout the 20th century on Friday morning.
His ashes rested in a box – one which he made himself, decorated with a windmill as a nod to his family's Dutch heritage – in the front seat of a 1960 Ford hearse.
The vehicle, driven by Claude Minge, led a convoy to Minge Funerals from the Johnstone Park combined clubrooms where the club meets each month.
Mr Kaak was well known in Murray Bridge as a Link SA bus driver, and was also the first driver to lead a bus tour through the former Monarto Zoo.
He remained behind the wheel until his cancer diagnosis earlier this year, and died on May 5.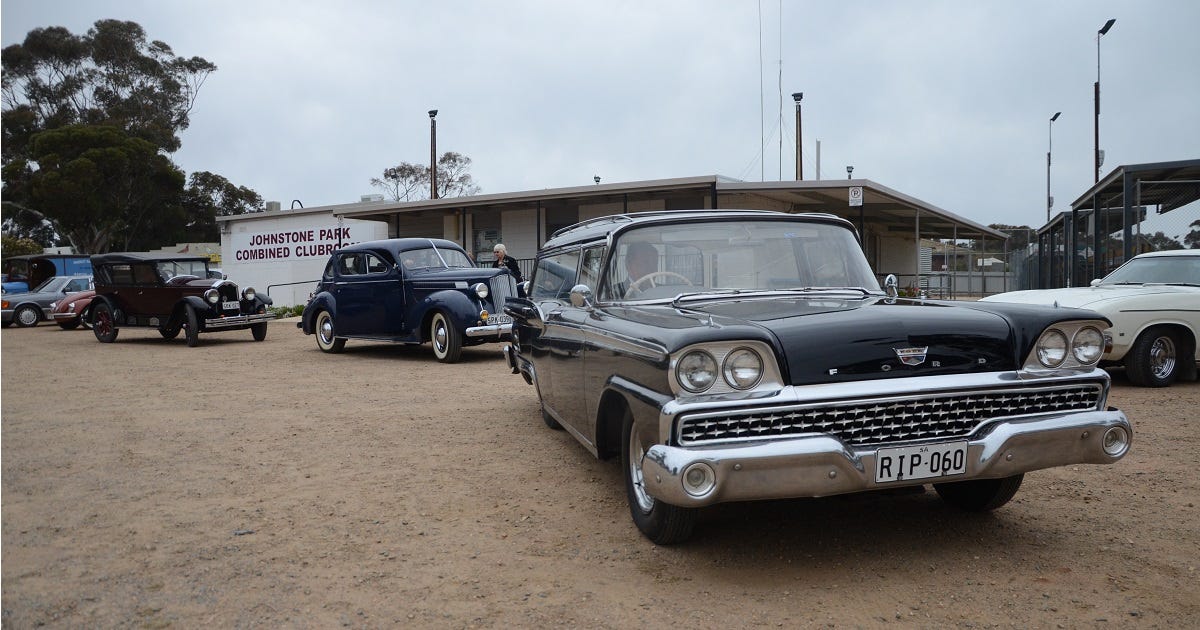 Eulogy by Ricky Kaak
There were two constants in Neil's life: you never saw him without a smile on his dial and he loved talking to people. In fact, he just loved talking and talking and talking.
Neil was born on the 4th of October, 1946 in the Netherlands and emigrated to Australia in 1959, with his parents and his three siblings.
At 14 he left school and started work with a plumber. Six months later he commenced working with his father, installing complete septic tank systems and digging drains with pick and shovel, work that is now done with backhoes.
By watching other tradesman at work, Neil became a great handyman.
In 1969, he and his father opened up the first Shell service station at Hope Valley.
A year or so after that, they went bush with a their new trucks and backhoe, transporting living quarters in the APY lands. Occy health and safety was not strictly adhered to.
Around this time, my sister Bernie introduced me to Neil at the ice skating rink in Hindley Street where, on our second meeting, I told two of my work colleagues that he was the man I was going to marry. Six months later we were engaged and a year later, in 1972, we married.
When our son Jason was born in 1973, Neil was walking on cloud nine for three months. A year later, our son Ron was born and again Neil was so proud of his achievement.
At the age of two Jason started calling all men "dad", so Neil decided to stop bush work and commenced his bus-driving career with Bowman's Bus Service at Hope Valley.
In 1981 we moved from Hope Valley to Mypolonga. He worked for the Mypolonga Co-Op, packing onions, where he caught his fingers in the machinery, lacerating them to the bone. There is a photo of him with his bandaged fingers wrapped in condoms.
Around this time he was also getting up at night to water Mypo's two ovals.
He became proficient at painting and tiling and drove buses for Ambassadors, Densleys, Murray Bridge Passenger Service, Riverside Bus Service and then Link SA. 
He loved these jobs, as he had a great way with people.
Neil was the first Monarto Zoo bus driver and drove the bus on the opening day of the zoo.
At one time he worked three jobs at once: throwing papers on weekends, driving the Monarto Zoo bus and still doing some painting and tiling. He did this for three years to ensure that, by the time he was 60, he would be debt free. This he achieved.
When we met Jim and Kath Stocker, we started travelling the countryside like the Leyland Brothers.
Because of Neil's love of travelling and Australia's unique beauty, we – as a family, with Jason and Ron – traveled to many parts of Australia, including Alice Springs, Birdsville, Oodnadatta, Poeppel's and Cameron Corners, plus every capital city in Australia.
I remember the time when we could drive our cars right up to the water's edge at Dalhousie. The boys could not have enough of the lovely warm water of the springs and jumped in and out of it most of the day, ending up like red, crinkled prunes.
I recollect a time when we went to Blanche Water Ruins and we all were in desperate need of a wash. The men boiled up some water so that the women and girls could have a lovely warm bird bath in our tents whilst the boys and men were supposed to go and jump in the water. Well, it was very cold and the boys were reluctant to go into the water so the men enticed them by promising them a little nip of port.
The next thing we women heard was the squealing and screaming from the boys because the water was freezing. But true to their word the men gave the boys a nip of port, so all was right with the world again. 
We travelled to Ayers Rock, as Uluru was known at that time. It took me forever to get to the top but Neil, being the gentleman that he was, stayed with me, as he knew I suffered from height fright. The boys ran up and down twice within that time. When we arrived at the top we all signed the visitors' book.
We took Ron on our trip across the Simpson Desert, where it could take a whole day to drive just 10 kilometres. Big Red, to our dismay, beat us and we had to go round it. Neil really learnt the art of four-wheel driving on this trip. Big Red is a huge sand dune in the Simpson.
After the boys left home we returned to the place of our birth. When we finally stood on Dutch soil Neil went down and kissed the earth like the Pope. We reunited with some of the family we left behind, which was quite emotional but oh so good. Neil just started speaking Dutch as if he had never left.
Whilst in Europe we visited Antwerp in Belgium and stayed three days in Paris.
I remember that we walked from our hotel to the Louvre and walked around there for at least three hours. We then walked the whole length of the Champs Elysees. Then we climbed to the top of the Arc de Triomphe – over 300 steps, if I remember right. We were then going to walk all the way back to the hotel. By now I could barely put one foot in front of the other but was determined not to hold Neil back. Well, hallelujah, Neil said that he could go no further so we hailed a taxi.
Neil and I discovered cruising and our first cruise was for five weeks visiting Hawaii, Tahiti, Samoa and Bora Bora, where we walked on the ocean bed surrounded by colourful fish and even stroked a stingray.
It was a magnificent experience and we were hooked. 
We then went on other cruises: the South Pacific islands of Fiji, Noumea and Vila, where Neil got his very cheap but lovely booze. He even got his sister Yanni to carry a couple of bottles on board for him.
We also cruised to New Zealand a couple of times and fell in love with the country.
Once we cruised the west coast of Australia and on to Lombok in Indonesia. 
Neil had an interest in stationery engines and joined the Murray Bridge club, of which he eventually became the president.
He also joined the Auto Collectors Club of Murray Bridge, where he kindly volunteered me as treasurer in my absence. Luckily I enjoyed the position, as he knew I would. He collected quite a few old cars: a Renault, VW Beetles, a Holden FC station wagon, a convertible Mercedes, a Packard Clipper and a 1939 Packard to name a few.
Neil loved surprising me, whether it be by repainting the outside of the house or fixing a small item I had asked him to do. 
When I retired from work, he surprised me by organising a "day with a keeper" at the Monarto Zoo. What an experience that was.
Again he surprised me by organising a two-week cruise on the Ovation of the Seas, which was the fourth-largest cruise ship in the world. Again it was a lovely experience but we decided not to cruise on such a big ship again as it takes too long to board off and on.
When Neil was diagnosed with pancreatic cancer in February, he had to tell me a secret that he had kept for a while and that was that he had organised another cruise.
We would have been travelling by train – he loved his trains – on the Indian Pacific gold class to Sydney, where we would then have boarded the Majestic Princess to go around Tasmania.
Unfortunately he won't be able to take this trip, so my friend Valmai volunteered to go with me if the COVID-19 situation has cleared, in which case we will be taking that train and cruise in March 2021. Neil will be going with me, as I will be wearing a necklace with some of his ashes in it.
Neil was very open with his illness, which made it so much easier for family and friends to visit him. He wanted to die at home but it became apparent that was no longer possible so he was admitted to the Murray Bridge hospital.
Near the end Neil could not speak, as it took too much energy, but he still had his sense of humour till the very end. In May, the day before he succumbed to his disease, I asked a nurse to make sure Neil did as he was told. The nurse said not to worry as she would keep on top of him. Well, you should have seen his eyes. They opened wide with anticipation. We all had a good laugh over that.
Neil, I want to thank you for all you have done for me, especially the surprises and the lovely memories we shared.
May you rest in peace.
Oh, and by the way, Neil: I finally got a word in edgewise.
Pay tribute to a loved one
Do you want to honour a loved one with an obituary in Murray Bridge News?
We would be happy to help you do so, free of charge.
Immediate family members may send a eulogy and a photo to murraybridgenews@gmail.com.
Photo of Neil and Ricky Kaak posing with their 1946 Packard Clipper after winning the ladies' choice award at the 2019 Twin Bridges Rally: Auto Collectors Club of Murray Bridge. Photo of the motorcade: Peri Strathearn. Mrs Kaak's eulogy was lightly edited for clarity.