Discover more from Murray Bridge News
The number-one news publication in South Australia's Murraylands, read by thousands of locals every week. Subscribe to our weekly email edition for free today.
Over 4,000 subscribers
Callington spur trail opens up natural vistas to walkers, mountain bikers
A new trail, which starts in Murray Bridge, was completed last week.
Editor's note: This is an example of the premium content which will be available only to paying subscribers once Murray Bridge News' premium subscription service launches.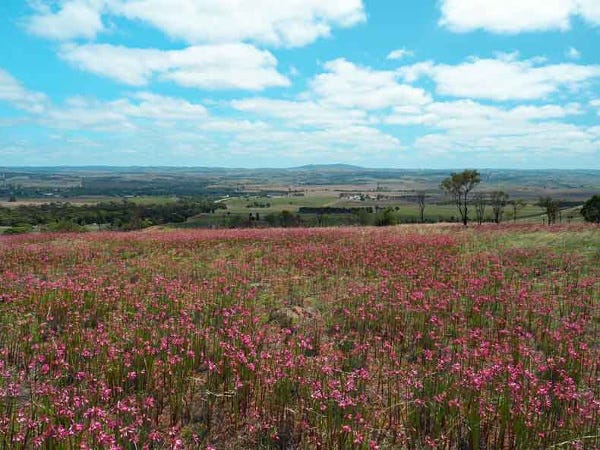 A new trail has opened up a scenic route through to Callington for walkers and mountain bikers from Murray Bridge.
Volunteers completed the last two kilometres of the Callington Spur Trail, between the truck drivers' memorial on Adelaide Road and White Hill, or Tower Hill, last week.
From Murray Bridge, the trail climbs up past the freeway interchange, climbs north through Kinchina Conservation Park, then takes a similar route to the old highway past Monarto Safari Park, through Kanmantoo and over Callington Hill to its destination.
In recent months, following late summer rain, the trail has taken walkers through natural vistas dotted with thousands of pink garland lillies and native grasses.
It was built by volunteers from South Australian Recreation Trails Incorporated (SARTI) and funded by the Murray Bridge council.
SARTI's Graham Hallandal said it was "a pretty rare thing" to find a trail that had been designed for both walkers and riders from the start.
But the involvement of each group had benefited the other, he said, and both had helped the council spend its money efficiently.
"The cost of getting professional trail builders in would have been horrendous, so we (SARTI) were asked if we wanted to get involved," he said.
"It was something we had expertise in, we had the volunteers, and our board decided yes, we'd back it and away we've gone."
That was a year ago, when only the sections through Kinchina and Rocky Gully had been established.
New signage was erected and reinforcing work done through those sections, on top of the 13 extra kilometres of trail that needed to be built.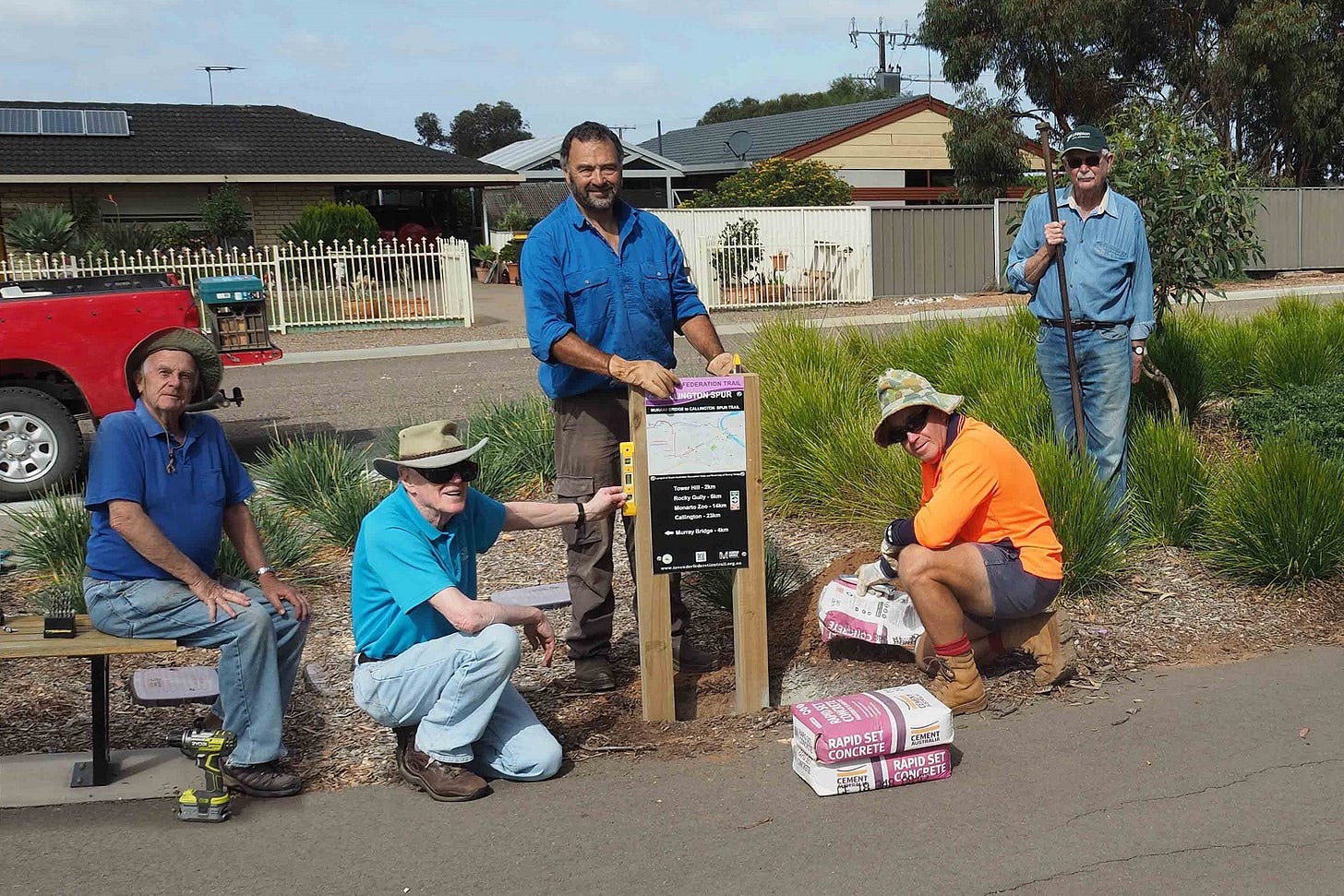 The good news, Mr Hallandal said, was that winter was the perfect time to get out an experience it.
"The walking season, if we hadn't had this coronavirus, would have officially opened a couple of weeks ago," he said.
"On this side of the Mount Lofty Ranges we often get days when it's very comfortable to walk while it's showering in Adelaide and teeming with rain in the Adelaide Hills.
"I reckon we've got a good advantage in this area because you can have a good day's walking or mountain bike riding without getting wet."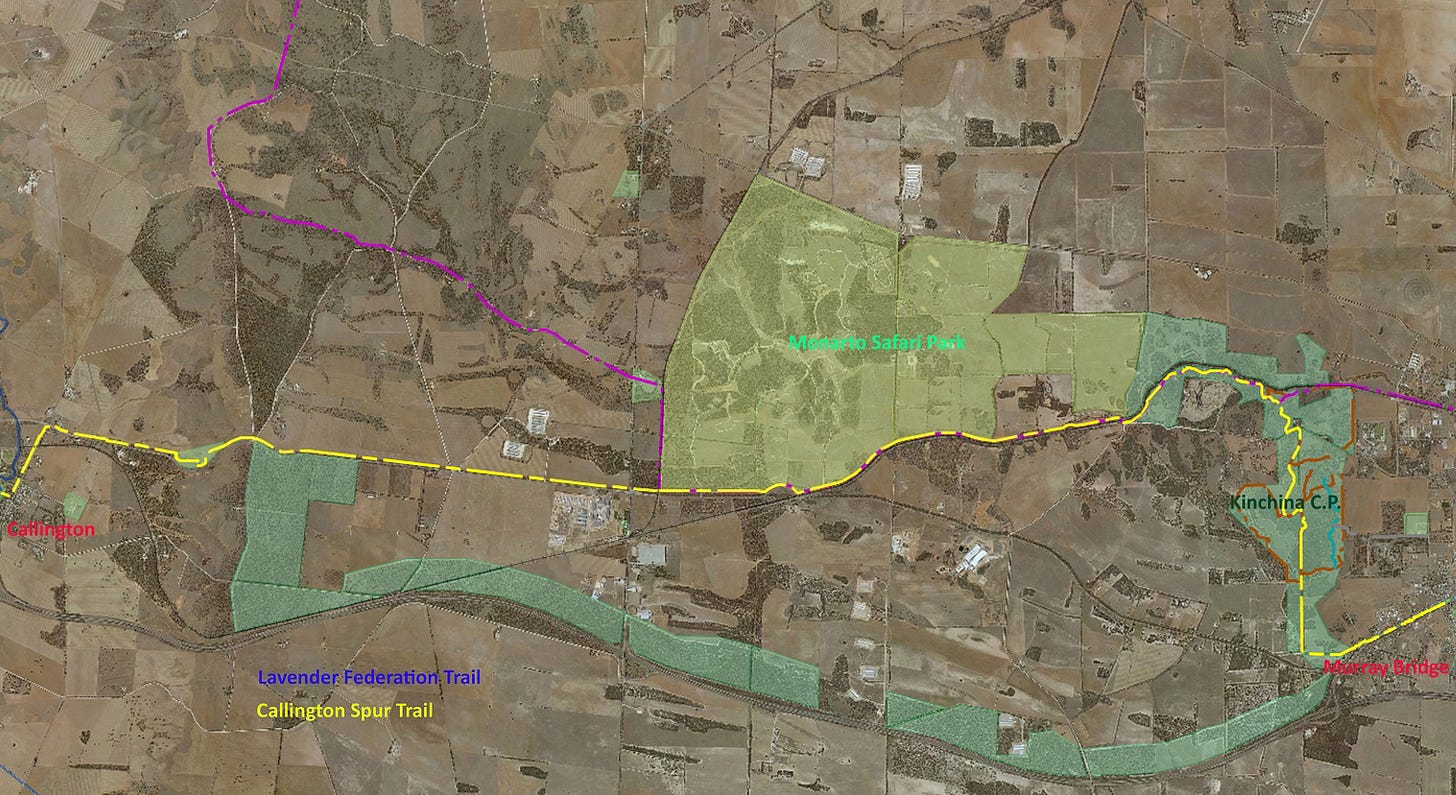 Photos, map: SA Recreational Trails Incorporated.