Discover more from Murray Bridge News
The number-one news publication in South Australia's Murraylands, read by thousands of locals every week. Subscribe to our weekly email edition for free today.
Over 3,000 subscribers
Callington spur trail opens, offering 'world-class' walking, mountain biking
A trail linking Murray Bridge to Kinchina, Monarto and Callington has officially opened.
This story was originally published behind Murray Bridge News' paywall. Paywalled stories are unlocked four weeks after publication. Can't wait that long? Subscribe here.
If this week's spring weather has given you an urge to stretch your legs, a new local trail can give you the opportunity.
About 70 people gathered at the Adelaide Road linear park in Murray Bridge on Saturday to celebrate the recent completion of the Callington spur trail.
Built by volunteers, with support from the local council, the trail rises up White Hill and passes through the rocks and wildflowers of Kinchina Conservation Park on its way to Monarto and Callington.
Mayor Brenton Lewis, pictured second from left, said the trail had already begun bringing visitors to the region – about 60 from an aged group had been staying in town all week.
He thanked the SA Recreational Trails Incorporated volunteers who had levelled ground and posted markers along the route.
"For years to come this will be a testament to what people can do ... if they wish to," he said.
"It's that passion that drives our community."
As part of the Lavender Federation Trail network, SARTI's Chris Bushell said, the new Callington spur was now part of the longest trail in the world constructed by volunteers.
People could walk or ride along trails from Murray Bridge to Clare, Wallaroo or Parachilna if they wished, he said.
Once the Murray Coorong Trail was completed in years to come, they would be able to go as far as Melbourne.
"We're very, very pleased that the local community and the council are so supportive and (have) taken ownership of the trails that we've helped them build around the place," he said.
"I think that's extremely important.
"Tourism is part of this – the more we can do to help broaden the economy, that's excellent – and of course the health of the community as well."
But local trails were not just for walking – the mountain biking community was delighted to have access to them as well, Murray Bridge Derailleurs' Dale Manson said.
"It's not a bridal path; it's a tough, challenging route," he said.
"On a mountain bike it's a real challenge, and that's why a lot of mountain bikers like it."
Between its world-class mountain biking routes, low-traffic rural roads, cycle speedway, BMX track and recent road races – including the state championships and Tour Down Under – Murray Bridge was building a reputation as a "city of cycling", he said.
Speakers also thanked Councillor Airlie Keen, Mobilong Rotary Club, Landscape SA's Paul Gillen, former Natural Resources SA manager Sarah Lance and Murray Bridge council's Glenn Dean and Kevin Heyndyk for their contributions.
Mobilong Rotary Club members served a barbecue to complete the day's festivities, while SARTI volunteers sold maps.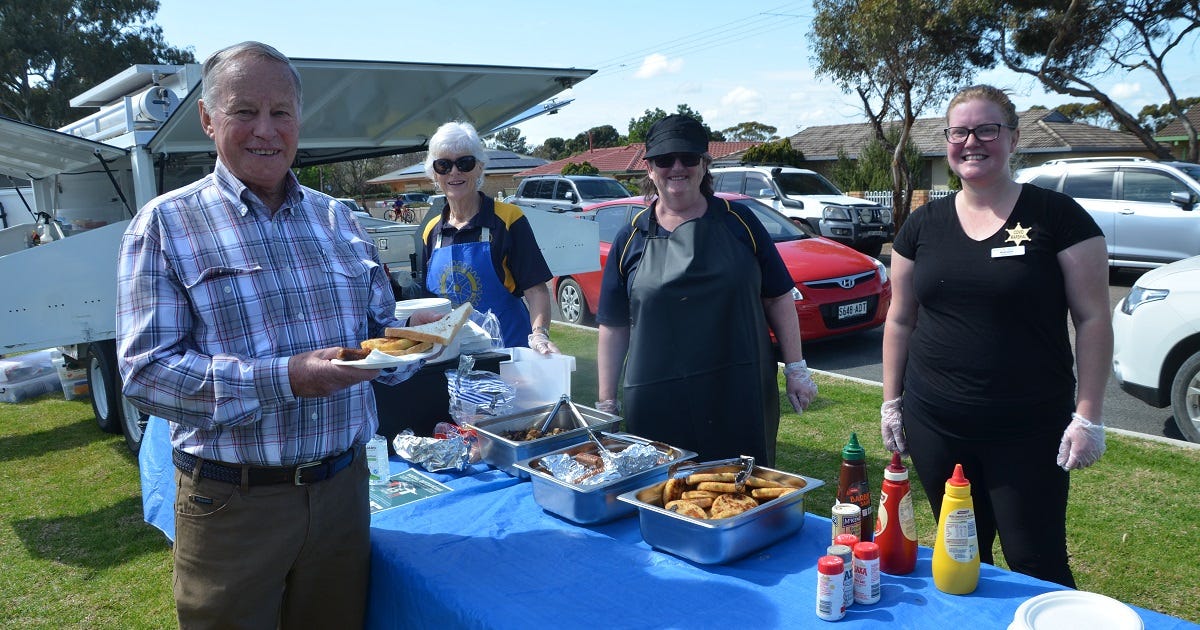 Photos of Chris Bushell, Brenton Lewis, Bob England and Dale Manson (top); volunteers Barry Stacey, Gail Manson, Harry Beauchamp, Graham Hallandal, Mr England and Mr Manson (second from top); a trail marker (third from top); and Doug Issell being served by Jill Reddin, Sadie Podger and Natalie Sickerdick (bottom): Peri Strathearn.