Discover more from Murray Bridge News
The number-one news publication in South Australia's Murraylands, read by thousands of locals every week. Subscribe to our weekly email edition for free today.
Over 4,000 subscribers
Bridge Windscreens' owner is ready to retire – and his profitable business could be yours
Steve Burgess is looking for a new owner for his unique and profitable Murray Bridge business.
This sponsored post is brought to you by Bridge Windscreens, Tint 4U and Sign Designs 4U.
After 35 years in business, Steve Burgess is ready to take a break.
The Murray Bridge auto glazier has grown his unique, three-in-one company into a known and trusted name in the Murraylands.
He has loved the variety of running Bridge Windscreens, Tint 4U and Sign Designs 4U, too.
"Every day we're doing something different," he says.
"That's what's kept me going."
But there comes a time in a bloke's life when he needs to look forward to the next chapter.
Could you be the person, or couple, to take over this profitable and well-regarded local business?
The new owner needn't be a windscreen installer by trade, Steve says – "they just have to have some mechanical and business aptitude".
"It would be perfect for a couple, particularly if they have complimentary skills, where one has business nous and one is mechanical or design-oriented," he says.
"The level of profit in the business, even shared between two owners, would still be outstanding."
Bridge Windscreens has been trusted by locals since 1988
Mr Burgess established Bridge Windscreens 35 years ago, having moved to the Murraylands to get out of the city.
He'd already trained as an auto glazier, and started to pick up some contract work for local crash repairers.
In time, the business expanded into window tinting, for homes and workplaces as well as cars.
Its move into signage and graphic design was a bit more of a surprise; unhappy with the quotes he'd been getting for a front-window job, Steve decided to have a go himself.
Word soon got around; last month, the company took in more revenue from signage than windscreens for the first time, despite its other revenue streams holding firm.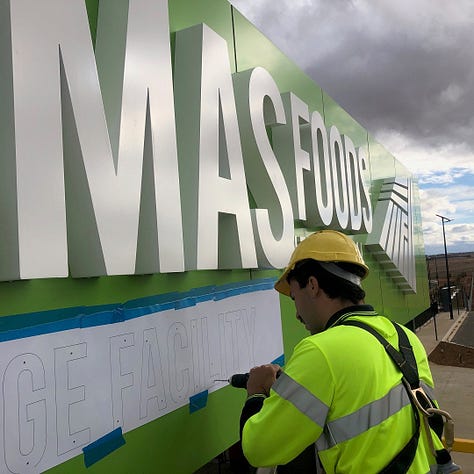 For many years, the business was a franchise for major windscreen and window tinting brands; but Steve has watched his profit margins increase in the years since he's gone independent.
Now Bridge Windscreens employs three full-time staff, including the owner.
Connor Byrne is a qualified tradesman with a Certificate III in Automotive Glazing, and Austin Ahern is a prime apprentice candidate with 14 months' experience.
The business' clients include not only local crash repairers and trucking companies, but also the likes of Thomas Foods International and the Bend Motorsport Park on the signage side.
"This year has been phenomenal, which is surprising, given the economic conditions," Steve says.
"We've been here a long time, we run a good operation, we have a very high repeat customer base, we're supported by a lot of other businesses in the trade, and … we've secured some great customers."
Could you be Bridge Windscreens' new owner?
So: are you ready to take on the challenge of running your own business?
Or are you looking to expand into the Murraylands by acquiring a trusted local brand?
Steve is ready and willing to help the new owners with training during a handover period.
The business sale will include two vehicles and all equipment and stock in Bridge Windscreens' well-appointed workshop, plus a long-term lease and reliable staff.
---
Interested in advertising with Murray Bridge News? We can help you reach thousands of highly engaged locals. Call Jane Intini on 0418 835 768 or email jane@murraybridge.news.