Discover more from Murray Bridge News
The number-one news publication in South Australia's Murraylands, read by thousands of locals every week. Subscribe to our weekly email edition for free today.
Over 4,000 subscribers
Bowling club recognises much-loved volunteer on opening day
Murray Bridge Bowling Club has presented a meritorious service award to Neville Gotch as bowlers prepare to return.
This story was originally published behind Murray Bridge News' paywall. Paywalled stories are unlocked four weeks after publication. Can't wait that long? Subscribe here.
A Murray Bridge Bowling Club stalwart has been recognised as members gathered for the first time ahead of the summer season.
Neville Gotch is the club's publicity officer and a selector at present, but has filled many other roles over the years, perhaps most prominently as a night owls organiser.
Club secretary Ben Traeger presented him with a framed meritorious service award at a season-opening tournament on Sunday.
"For most of (his) time he has been involved with the night owls and the running of that, which has been a great thing for the club – it has brought in a lot of new members and we see a lot of people here on Wednesday and Thursday nights," Mr Traeger said.
"For a few years now he's been doing (club newsletter) Whispers as well, getting communication out to members so they know what's happening around the club.
"He's always willing to to give a hand when he can.
"We thank him for his service."
Mr Gotch thanked the club for singling him out among its many hard-working volunteers.
"I have difficulty understanding people who join a club and then don't get involved," he said.
"This club is very lucky because we have a lot of people who do do a lot around the club.
"A lot of you don't see a lot of the (work) behind the scenes, and they do it because they want to.
"This is one of the strengths of our club."
Another member, Ron Goodwin, was to have received his life membership on the day, but he was unable to make it.
Mr Shilton and all the club's members wished him good health in his absence.
After the short ceremony, about 50 people headed out onto the green to play two games of 10 ends.
Merle Lewis, pictured above, put down the first kitty and Don Harper, pictured below, followed it up with the first bowl of the season.
The opening day was held 50 years and one day after the opening of the bowling club's premises on Adelaide Road.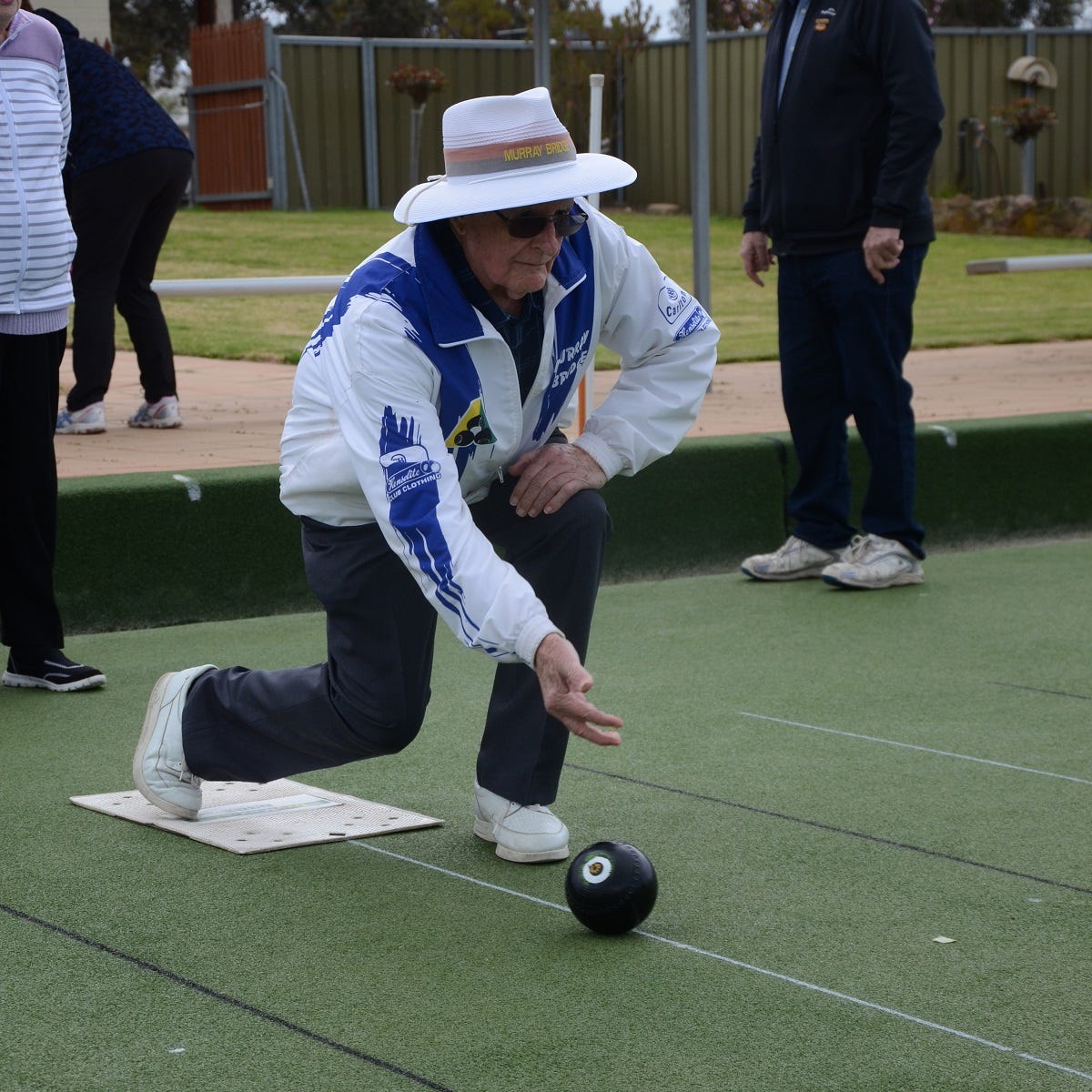 What's been happening at your sports club?
Murray Bridge News is happy to share news, results or photos from sporting clubs throughout Murray Bridge and the surrounding region, free of charge.
Email murraybridgenews@gmail.com or call Peri Strathearn on 0419 827 124 if your club would be interested in having something published regularly.
Photos: Peri Strathearn.